Here ya go
James (jc_70) and my KH SLE
ford just passed us stat. j/k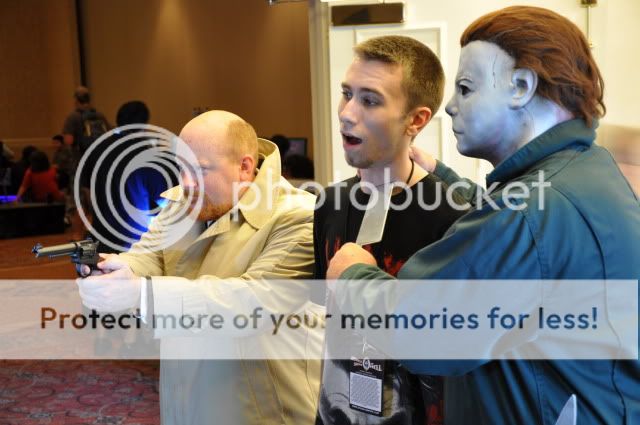 If I remember correctly Dick was saying I was an awesome Loomis, I told him no one is better than Donald, He said "oh no you are the best"...j/k
The I shot him x times...lol
This chick was all over Myers, but secretly she wanted Loomis...haha
Later I found a better Joker, but didnt want to waste time with it.
I will add more later.
Matthew Mayhem Sunday 10/18/2009 at 09:17 PM | 56570
Thanks for sharing Matthew!!! Those pics made my day!! You should add that YouTube link where DW almost wears your KH/DW mask
kaizu Sunday 10/18/2009 at 09:24 PM | 56571
killer pics mayhem! you make a kick ass loomis!
El Diablo Sunday 10/18/2009 at 09:27 PM | 56572
THAT LOOKED LIKE A FUN TIME!


BrandyWine Sunday 10/18/2009 at 09:47 PM | 56573
Awesome pics Matthew and love the video. It is very cool to hear him talk about the mask.
cropsy Sunday 10/18/2009 at 11:26 PM | 56575
Nice pics bro...You make a great Loomis!
Thorn Monday 10/19/2009 at 12:58 AM | 56585
Great pics man!

I wish I could have met everyone else, but was very happy to have run into you that day.

Still wish I could have seen the Loomis outfit in person, but these shots really hammer it home.

You guys did an outstanding job, and Dick is right man... that Loomis costume is tops, you really look like Donald in a lot of those shots.

It's uncanny. I will have to watch the video when I get home, can't do it here at the school library.


DarkArtist81 Monday 10/19/2009 at 01:22 PM | 56608
great video also, that kh mask is the shit!
El Diablo Monday 10/19/2009 at 05:50 PM | 56625
i got two comments to make....first matt....i love the little things you did to come across as Pleasance, such as his clasc smirk.....outstanding.

Second...i love the "I told you so" with spin around close up of swampbilly....lol..

great pictures, costumes, etc...

take care, Tommy
Homicidal9 Monday 10/19/2009 at 06:00 PM | 56627
My god, I would love to meet Warlock. The man is my idol!

Those are such great pics Matt and it makes me anxious for the next Monster Mania con in March.

By the way, the 6th pic of you and chase in costume, you have a dead on smile like Loomis after he says "Hey Lonnie, get your ass away from there!".
DrenTheLiar Tuesday 10/20/2009 at 12:03 AM | 56637
Lol thanks for throwing me and wifey into the mix Matt.

We had a great time there and were very happy to finally meet you in person.

Your Loomis is freakin dead on bud and your pics are amazing!

Hope to see you there next year if not before.

Deathringup (aka Matthew)
deathrisingup Tuesday 10/20/2009 at 02:53 AM | 56656
AWESOME! If you have any pics with us with the lovely couple (and of course my scream queen wanna be thing) would you mind sending them to me? I'll give you credit.
St. Pete Slasher Tuesday 10/20/2009 at 03:54 AM | 56657