If there is one thing we love more than anything here at HorrorBid is pason for the genre of horror. This forum is a perfect example of people that share a milar pason. Whether you love talking about your favorite horror flicks, the latest rumors or whats new on the collectors scene, this has become the place for fans to unite and talk about what they love.
Enter Ones Customs. The legendary figure creator that is known for the ckest, most insanely detailed horror figures on the planet is FINALLY here. If you're not familiar with Ones work you will be. Those of you that know about his work will know exactly why we choose to bring him aboard and dedicate an entire section of the te to his work. Not only is he one of the most pasonate horror fans around, he truly loves what he does. It only made sense for us to help share his work with the masses.
Fans of Ones work and figure collection in general enjoy this new section. Expect One to display new pieces including many of his old figures as well. As always if you know One you know he loves to talk horror and his figures through YouTube. Expect videos to come. Enough of the talking. It's time to show you just a tiny little sample of his past work. Feast on some of Ones ckest creations below.
Horror Domain - Cursed Evil Overlord Wednesday 2/23/2011 at 06:32 AM | 72337
Awesome to see One getting this opportunity! Thanks a lot HorrorBid. I will be posting up some of my pieces I got from One, stay tuned!

Dark Passenger/Beta2G
Dark Passenger Thursday 2/24/2011 at 01:11 AM | 72359
?t=1298515180 Based on the Nightowl Butcher mask
?t=1298515288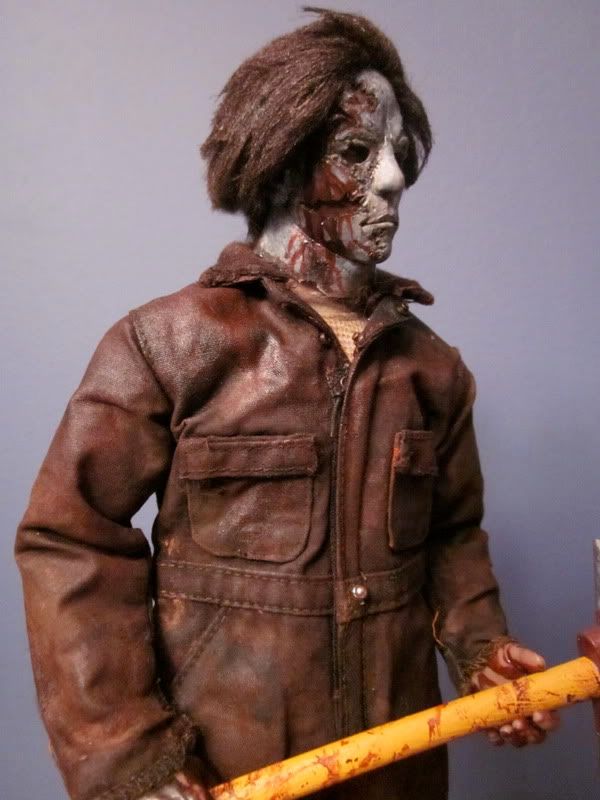 ?t=1298515529
?t=1298515595
?t=1298515619 Are you a Giant?
?t=1298515647
Dark Passenger Thursday 2/24/2011 at 01:47 AM | 72361
The Old 78
?t=1298515721 The H2-81
?t=1298515805
?t=1298515844
?t=1298515899 One more of my favorite figure.
?t=1298515922
Dark Passenger Thursday 2/24/2011 at 01:52 AM | 72362
DarthMagnus Thursday 2/24/2011 at 03:10 AM | 72376
Nice glad to see ones customs on here thanks alot horrorbid.com u guys are the best....one great customizer and one great webte unite babieeee
Mr.Skemer Thursday 2/24/2011 at 04:02 AM | 72377
Amazing work brother. I've been following your work on YouTube. Glad to see you here on HorrorBid. Man 2011 is gonna be a great year.
Ryn Thursday 2/24/2011 at 08:06 AM | 72385
Not to be over dramatic but "He Came Home!"

Glad to see you here One!


Shakelford, J. Rusty Thursday 2/24/2011 at 04:53 PM | 72403
Love One's Customs!!!!
He's the only guy I go to for figures!
Here's my youtube channel with a few vids of my hobo Myers and Laurie Strode!
http://www.youtube.com/user/maryellen30165?feature=mhum
He's sending my Deborah Myers today!
Can't wait to get it.
I will take new pics of everything when it arrives and post them here!
Welcome One's Customs!
Justin
JustinBF Thursday 2/24/2011 at 11:23 PM | 72421
I saw One's latest vid on youtube and decided to join over here.

Evern though I'm relatively new to the One's Customs show (about 6 months or so) I'm already a big fan and have 2 of his pieces.

I have a part 8 1/6 scale and a part 5 Roy Jason is on the way.

I will try to post pics soon.
dclemm79 Friday 2/25/2011 at 03:12 PM | 72459
Shout Out to One himself for being the best Horror Figure customizer I have ever seen and looking forward to getting the current project he is working on for me.
Bmaga123 Friday 2/25/2011 at 05:45 PM | 72469
Awesome man! One and I go WAY back, and I had his 7 inch New Blood, best Jason figure/set ever! Welcome to the forums!
sirbrad Saturday 2/26/2011 at 05:47 AM | 72488
wow, impresve stuff to say the least!
ny ghoul Saturday 2/26/2011 at 08:35 AM | 72491
EXCUSE MY FRENCH BUT.....

ARE YOU FUCKING KIDDING ME. UNBELIEVABLE MAN!

THAT IS BEYOND IMPRESVE!!

I WANT ALL OF THOSE
TheShape1188 Saturday 2/26/2011 at 06:11 PM | 72536
Congrats man you deserve all of this you are an amazing customizer and an even better person. So again congtras on getting the recognition you have desrved for a long time now!!!

-your boy jamie
mmyers911 Saturday 2/26/2011 at 09:26 PM | 72551
Congrat's bro. Cant wait to see more work come out.
machete123 Monday 2/28/2011 at 07:32 PM | 72685
If One is here, then I am too. Hey guys, I'm joebizz34. I know One and crew from the freak boards and once I heard he was coming here, I had to join. This guys work is awesome and I too have bought some of his stuff. I am awaiting more as I type this. He has inspired me with my own work and I look forward to seeing more of his customs on here.
joebizz34 Thursday 3/03/2011 at 05:46 PM | 72889
Great to see Ones customs on here.

Its a great webte and i wouldnt have known about it without ones vids, many thanks and hope to see soem more of your work in the future.

I will hopefully upload pics of my collection on the other thread if i can get hold of a good camera.

Thanks , Ross.
FredKrueg3r Friday 3/04/2011 at 08:48 PM | 72966
One is one of the reasons I decided to join this forum. I think he is an amazing artist and I hope to get something from him to add to my collection.
Samhain Saturday 3/05/2011 at 02:12 AM | 72989
Awesome Collection there... Keep'em coming! ONE is the MAN! there is no other...


Moe Productions Saturday 3/12/2011 at 03:23 PM | 73330
ONNCEEEEEEE AGAIN!!!!!!

The only, ONE!

Can't wait for 'the Shape' homie.
78Myers Thursday 6/16/2011 at 07:38 PM | 77520
It doesn't get any better than that!
gummi Friday 6/17/2011 at 12:44 AM | 77531
Is it just me or does it seem like One's Customs ISN'T here???

Can't seem to get ahold of him lately, kind of concerned.Justin
JustinBF Thursday 8/11/2011 at 08:45 PM | 80456
Probably really busy doing figures for Halloween.
sirbrad Monday 8/15/2011 at 08:55 AM | 80670
I really need to get ahold of him to place an order...

: [
Michaelmath53326 Friday 8/19/2011 at 12:59 AM | 81073
Where is One? He's been misng I hope everything is ok.
fallon6190 Wednesday 8/31/2011 at 10:53 PM | 81944
Well, after waiting over x months for two figures (old 78 and H281), One promised me over and over that he was going to come through for me.

He always thanked me for being patient.

Finally, on July 15th, he said they were mailing the next day.

Over one month later and still nothing.

No answers to email, pm, or text message for ever a month.

So, today I went over the the deshow freaks forum and went to his profile and I see that he was on the te last night.

He can browse forums, but not answer customers.

Something fishy is going on and I'm starting to doubt I will ever get the figures.

I've put off posting this for a while now but decided to cut my loses and get it off my chest!

If you are out there One, talk to us!

Justin
JustinBF Wednesday 8/31/2011 at 11:27 PM | 81947
Sometimes he goes quiet when he owes people too much stuff. No one should take more orders than they can fulfill in a reasonable time.
sirbrad Friday 9/02/2011 at 06:10 AM | 82066
mmyers911 Friday 3/02/2012 at 09:48 PM | 91031
Can someone let me know how to get in touch with One?
JesseChromeskull Wednesday 6/13/2012 at 01:38 PM | 93637
ones work is mpley ONE-DERFUL!!!!!!!!!!!!!!!!!!!! NICK M
MASKENSTEIN Friday 3/29/2013 at 01:14 AM | 100584