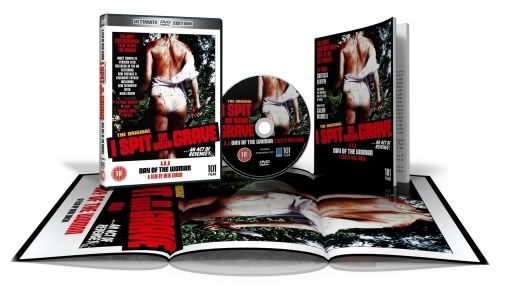 I just received a copy of the I Spit on Your Grave Ultimate DVD edition.
This awesome package comes with a 24 page color booklet containing a review of both the original and the remake. A double ded poster of the original and remake is also included.
This is the most complete veron of one of the most controveral movies to hit the worlds screens and now for you to own on this brilliant collectors edition DVD or Blueray.
The DVD is packed full of extras with an excluve video interview with Meir Zarchi, A collection of TV spots, radio spots and trailers, a gallery containing all of the sleeves and posters plus an image gallery from Meir Zarchi's personal collection. It also contains an in depth essay into the film with reviews and articles from around the world along with what people think and say about I spit on your grave AKA The day of the woman.
A great copy of the film with brilliant extras this is a definite buy for any fans or a great way for any one who has not yet seen the film to be introduced to this cult clasc.