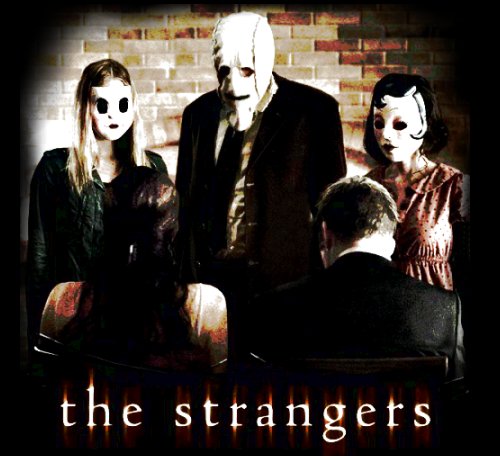 Within the past decade, horror films that have made its way to the lver screen have been filled with far too many toned down PG-13, Japanese adaptations or theatres just seeing a dry spell lacking a good thrill.
But in late spring of 2008, one film that kept things mple set out to be a fun time that I can watch over and over again and maintain that thrilling feeling nearly as much as the initial viewing. First-time writer/director Bryan Bertino delivers The Strangers with a macabre, "based on true events" plotline that keeps within a realistic realm and builds suspense quite well.
After a botched marriage proposal, James Hoyt (Scott Speedman) and Kristen McKay (Liv Tyler) set out to what could have been a romantic weekend up at his father's rural home. But instead, it turned into an emotional, yet unexpected massacre waiting to happen as some uninvited guests start taunting and eventually terrorizing the guiltless couple.
And for what reason were these so-called strangers terrorizing them? mple. It just so happened that they were home. It was the biggest mistake of Hoyt's life to answer the door in the wee hours of the night as a dreary, shadow-obscured girl comes knocking "looking for a friend." But only should they know that she would be back, next time with a couple more masked, pitiless vitors.
Despite some foreseeable, clichéd moments, The Strangers constantly builds suspense with a dark, 'in the middle of nowhere' setting. And Bertino switches from the perspectives of the protagonists and antagonists that give viewers a glimpse through the eyes of the characters.
The Strangers has the feel between When A Stranger Calls and Vacancy. But instead of continuous, disturbing phone calls and taunting at a hotel, Strangers serve up milar undertakings but with much creepier fiends and brutality that is taken to a higher level. With a decent amount of bloodshed, a heart-pounding climax and a brutal, merciless concluon, it makes for one hell of a 90-minute thrill ride, although the ending may keep you out in left field.
Overall, The Strangers does stick to a realistic tone, even though the film is not based on any particular happenings, but rather a compilation of them in general. Speedman and Tyler live up to their characters and never seem to become too far-fetched. Despite a slow intro, the remaining two-thirds of the film make up for the building of the plotline with non-stop thrills that shouldn't be taken too seriously, but rather enjoyed.