UPDATE PAGE 3!!!!!!!! Many of us know that the masked used in the 1978 clasc Halloween was a modified 1975 Captain kirk mask. The Captain Kirk mask was a thin children's latex mask sold back in the 70's to mimic the death mask that Star Trek used during the filming of the show for William Shatner. For Halloween, the Kirk mask was painted white, eyebrows & deburns torn off, hair puffed up & eye holes rounded out. It was something instantly special, as production degner & modifier of the mask Tommy Lee Wallace proclaimed.
It's known to die hards,general fans, & mask collectors throughout the community as the:
The Hero, The Shape Mask, Kirk Mask, etc...
After a Very long anticipated wait.....The Kirk Has finally Started Myself & long time veteran sculptor & friend Nick Mulpagano of Handiboy Studios
have teamed up to tackle a clasc. Nick will be sculpting his first ever Captain Kirk Mask.
I will be consulting throughout the entire making of this mask and will have a hand in the
production as well. The mask is still in the very early sculpting stages and will be hopefully
completed by end of summer. There is no set date on release or name of the mask. They will not be limited and will be poured in premium latex. The latex will be tinted a dark brown & will appear that way on the inde of the mask to give it the most authentic look for a 75 kirk & Hero mask. The Mask will be offered in multiple unique verons.
Please Stay Tuned for further details & Thanks for Looking
Here's teaser shot of the starting sculpt.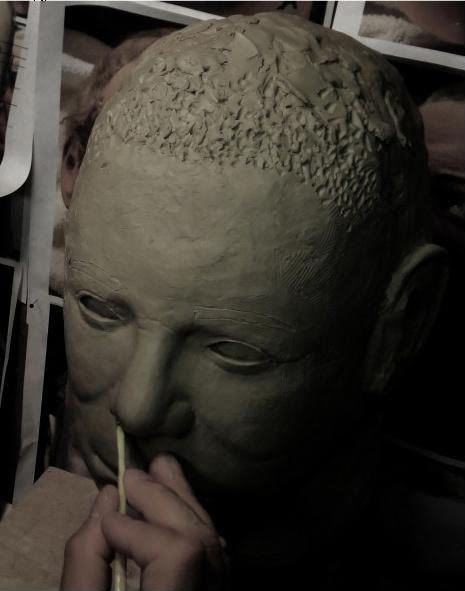 FOR MORE INFO ABOUT THIS PROJECT
& VAST VARIETY OF OTHER GREAT MASKS AND SPECIAL FX WORK PLEASE VIT:
http://handiboy.com/