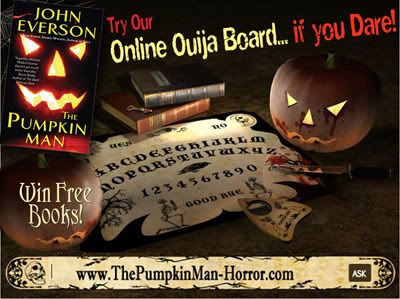 Interested in winning boatloads of awesome goodies from Bram Stoker Award winning author John Everson? Well, it's your lucky day, because John is returning the gratitude he's received from his fans by giving you, the reader a chance to win some awesome prize packs that include autographed novels, posters, CD's and even E-books!
What's the catch? Well, there really isn't one! All you've got to do is check out our excluve interview with John RIGHT HERE, and then vit JOHN'S CONTEST PAGE, enter your information (be sure to select Horrorbid under the "Referral te" dropdown box) and you're eligible to win some awesome goods. Haste makes waste however, as the deadline for this contest is October 31st at 6 P.M., so get your asses in gear and capitalize on the chance to get your mitts on some stellar horror!
Check out a full list of prize packages that one lucky Horrorbid member could walk away with!
GRAND PRIZE: Win Autographed Copies of ALL FIVE of John Everson's novels - Covenant, Sacrifice, The 13TH, ren and The Pumpkin Man! Plus, an autographed poster and CD of The Mechanical Heart from the band New Years Day!
FIRST PRIZE: Win an autographed copy of The Pumpkin Man trade paperback and an autographed poster and CD of The Mechanical Heart from the band New Years Day!
BLOG TOUR WINNERS: Winners will be chosen from each of John's Blog Tour tes to receive a free a e-book copy of The Pumpkin Man!
So I say to you Bidites: stop slacking, and seize this opportunity to grab some cool material from one of today's most proming horror authors, I can personally guarantee you will not regret it (just check out my review of John's latest Halloween shocker, The Pumpkin Man, which earned quite high marks!