Ok,
We are entering a new age of CGI . .. sort of .
This kind of reminds me of what they did with Patrick Stewart and Ian McKellen in X-Men 3 (who they made them look 30 years younger).
Well there was news that a body builder was Hired on to play Arnold's Terminator . .. he was a pretty good look alike.
Well we've got a pic of Arnold on set with Christian Bail seen below . . .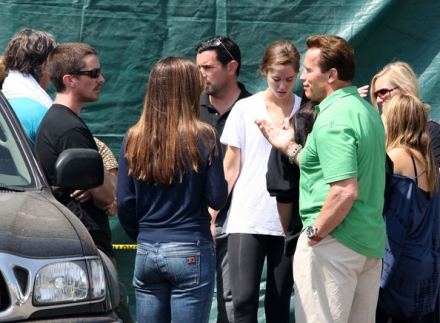 It looks as if Arnold IS going to be in TERMINATOR SALVATION, read what I found at Slashfilm:
"…I have varous contacts in WB and from what i've been told the fans are in for a treat. The premise of Arnie's involvement is to have a fully rendered digital face of Arnie replacing the recently cast Roland Kickinger (The Younger veron of Arnie). It seems the Director McG will in no doubt try all he can to ensure the Governator has some sort of involvement and as a result Arnold was on set providing key ADR (Voice over) for the visual effects guys…"
Ok Terminator Fans . . .what are your thoughts???