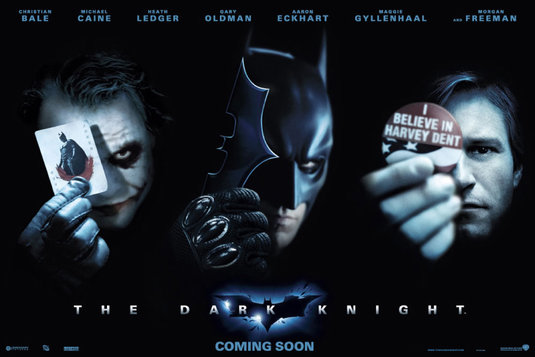 Taken from Film Junk
The Dark Knight just won't go away! According to The Hollywood Reporter, Warner Brothers plans to re-release the movie into regular theatres and in IMAX this January as part of their campaign to win the movie a few Academy Awards. This is a common approach that many studios take with movies that are expected to get nominated; it helps keep the film fresh in the mind of voters, and it also helps them sell more tickets based on the Oscar buzz.
So do you guys think this is overkill?
This movie has been on just about every film goers mind for the past several months (yes every couple of days I find myself think about the dark knight . .. it's just that kind of a movie I guess).
With this kind of release they are obviously trying to push the entire "DARK KNIGHT" experience for an Oscar and not just Heath's mind blowing performance (that WILL get at least a nod I hope).
Still, "THE DARK KNIGHT" is going to be released on DVD and Blu-ray in time for it to get stuffed into our Christmas stockings.
This sounds like another movie that went big several years back?
It was of Titanic proportions to say the least.