In 2009 Evil Dead director Sam Raimi decided to create another horror film after being dormant in the horror industry for many years. Here is the synops and review...
"A loan officer who evicts an old woman from her home finds herself the recipient of a supernatural curse. Desperate, she turns to a seer to try and save her soul, while evil forces work to push her to a breaking point."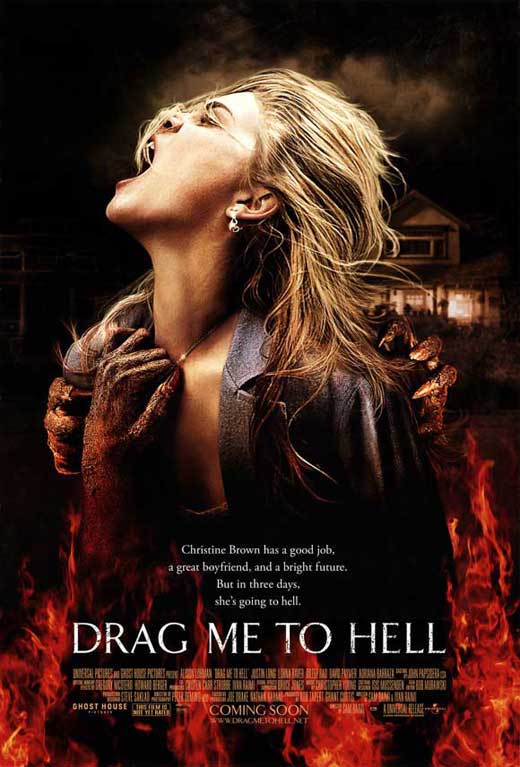 In 2009 I was just a casual movie fan, and on the release of this movie I heard rave reviews, phrases like "a modern clasc" and "the scariest movie of the decade" filled my ears. I was only 11 at the time so had no interest nor any means of watching this movie. Now that I'm a horror movie fanatic I had to watch this film. As I got closer to watching this film I did some research into reviews and I was surprised to find that people detested this film, Joe and Tom of The House Of Horror Podcast said "It is the worst horror film ever made". This just sparked my interest even more!
This movie is a comedy first and a horror movie second. It contained some hilarious scenes that made me and my friends laugh out loud, some nasty scenes that made us cringe in disgust and some horrifying scenes that made us jump out of our seats. I thought the acting was fantastic with great performances by the fricking hot Alison Lohman and a great comedy performance by Justin Long. The old woman was a great enemy in this movie who had very unique aesthetics and was also very visually frightening.
SHE IS HOT!!!
I thought the plot was "okay" and could of been better, but I thought it was good enough and the execution kept me watching. The only bad thing about this movie is the sometimes stupid scenes, the eye in the cake was not necessary
and the arm down the throat was plain irrelevant.
Overall this movie is CK and I really enjoyed the whole experience of watching it. I am giving this movie a B. I would only recommend this movie if you are looking for a good time, (not if you are looking or an inghtful film into the philosophical elements of fascist regimes (or any thing clever)), NOT TO BE TAKEN SERIOUSLY!
PLEASE PLEASE PLEASE CHECK OUT OUR...
READ OUR Blog:
http://soshorror.blogspot.com/
FOLLOW US ON Twitter:
https://twitter.com/#!/CKSHIThorror
LIKE US ON Facebook:
http://www.facebook.com/pages/CKorSHI ... 94?sk=wall
SUBSCRIBE TO US ON Youtube:
http://www.youtube.com/user/CKorSHIThorror
------------------------------------------------------------------------------------- Read this review at
http://soshorror.blogspot.com/2012/02/d ... sy_20.html
-------------------------------------------------------------------------------------