I absolutely loved this movie and have been waiting for someone to come out with a mask from it. Finally this mask of the fat zombie from the yard scene came out.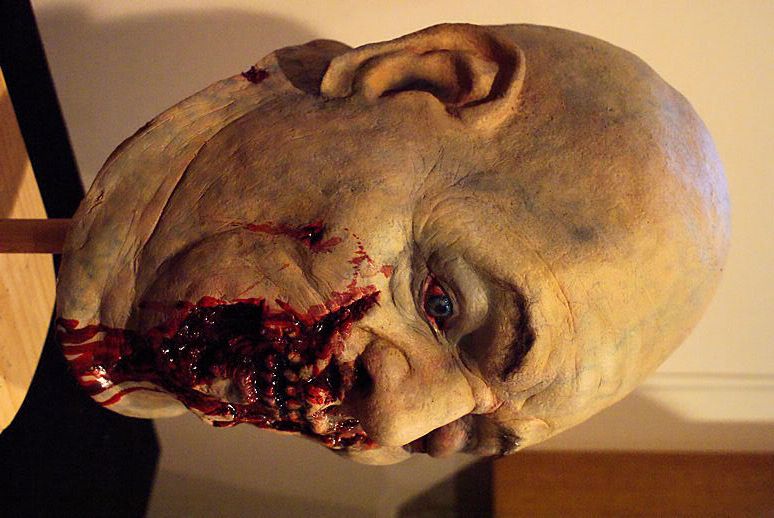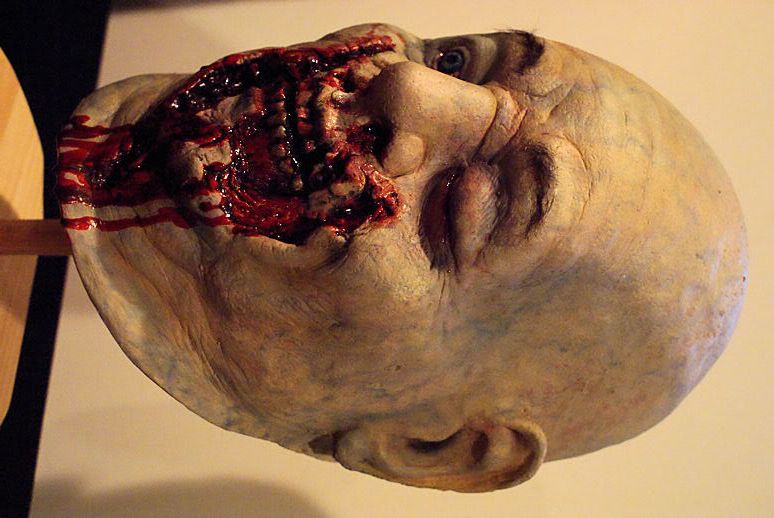 A few promo items: CD-ROM press kit, button, and promo cricket bat (very hard to find these days)
A few autographs:
lblambert Tuesday 9/23/2008 at 12:32 AM | 19321
Great Stuff I also am a big fan of Shaun of the Dead ..
maskmaniac Tuesday 9/23/2008 at 01:54 AM | 19323
Shaun of the Dead is brilliant! I love that movie. Great looking props you picked up right here. Just amazing!


oldskool Tuesday 9/23/2008 at 01:55 AM | 19324
it is a great movie and great scores Lee! Your collection is just insane!
DaShape Tuesday 9/23/2008 at 01:58 AM | 19325
That zombie rules man. Great score once again.
quietonthesetstudios Tuesday 9/23/2008 at 02:36 AM | 19328
Very cool Lee... I still have yet to see it...looked too funny though...lol
kweandee Tuesday 9/23/2008 at 02:37 AM | 19329
Lambert another great score! Man this has been a productive month for the mancave! I too am a Shaun of the Dead fan, anything that mixes comedy and horror I love!!!!
Horror Domain - Cursed Evil Overlord Tuesday 9/23/2008 at 03:26 AM | 19332
Thanks guys! I appreciate the comments.

You're right Justin this has been a good few weeks for the Mancave. Even better than this piece was the Alvarez Chris Lee Drac I've spent months searching for. Check it out in the Clascs section.

Yukon
lblambert Tuesday 9/23/2008 at 04:22 AM | 19337
Awesome finds!

Great movie!
Evildsm Tuesday 9/23/2008 at 06:21 PM | 19354
that is a great movie although I can't understand the thick british accents half the time, lol. That zomibe is f'ing insane with the detail. very cool!


pamelavoorheesRIP Tuesday 9/23/2008 at 10:57 PM | 19370
Awesome stuff!

I LOVE that film.

This past year at SDCC I met mon Pegg and I couldn't stop grinning.

I wish I would have had a pic or something for him to autograph, but he was with his woman... I didn't want to bother the Hell out of him.


DarkArtist81 Saturday 10/18/2008 at 10:05 PM | 20980
Great flick really enjoyed it......
TekNik Wednesday 11/05/2008 at 08:03 PM | 22563
shaun of the dead is one of my favorite movies!!!!!!!!!! where did you get all that sweet stuff?
misfit Sunday 11/16/2008 at 10:09 PM | 23848
Killer mask and props. I love the autographs too.
cropsy Monday 11/24/2008 at 10:48 PM | 25262
cool shit!!!!!!! i like the fat zombie the most.
condemned1 Sunday 1/11/2009 at 07:07 PM | 31722
A f'ing mask, autographes and props...

I want to be Lambert when grow up....
LÜCKMANN Wednesday 1/21/2009 at 09:23 AM | 32818
Those are awesome Shaun of the Dead rules Very cool Lee... I still have yet to see it...looked too funny though...lol It's a very worthy movie to watch

Way better than a lot of the recent Dawn of the Dead wannabie crap that's been showing
kaizu Wednesday 1/21/2009 at 11:30 AM | 32830
I want to be Lambert when grow up....

Start with a lobotomy and add large amounts of tequila
lblambert Thursday 1/22/2009 at 02:24 AM | 32900