Hello there Horror Fans!
Earlier this week I watched a movie called The Midnight Meat Train (2008) and now, I decided to make a review for it.
Before I start, I thought I'd express to you that this movie is underrated for originality and creativity.
The trailer:
The Midnight Meat Train is about a photographer named Leon (Bradley Cooper), from the "Big Apple", who is looking for a "big break" in his career of photography and ends up tracking down a "subway" serial killer named Mahogany (Vinnie Jones) and taking photos of him through suspicion. His suspiciousness will later take him down a road that nobody wants to take and surfaces secrets from the past that weren't supposed to be.
This movie is original and a mixture between Supernatural and Slasher, genre wise.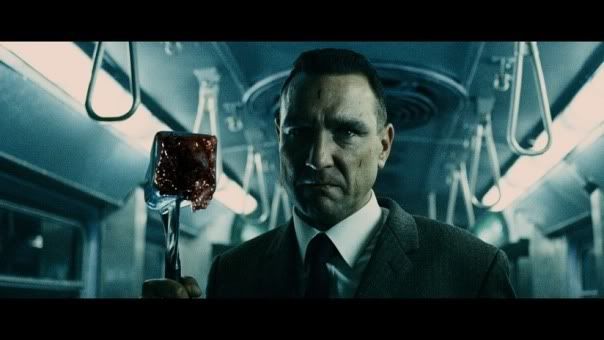 I love the setting and lighting of the movie, It brings a certain mysteriousness to the film and killer. Vinnie Jones was the perfect candidate to be Mahogany and played the role well. The great part about this movie is the fact that your predictions for the end of the film may not (or may) come true. The ending is shocking and exciting in an original way and the amount of gore is gnarly.
Id rate this movie 8 out of 10 for originality and for the amount of suspense.
Over all this is an excellent movie and I hope that there will be a second film. If you haven't seen Midnight Meat Train, you can watch it on Netflix or rent it from your local movie store, Its worth it!