"Something Strange is Happening Deep In The Woods... But No Ones Lived To Tell About It."
Hey all,
I just finished watching the film "Wrong Turn" by Twentieth Century Fox and decided to make a review for it.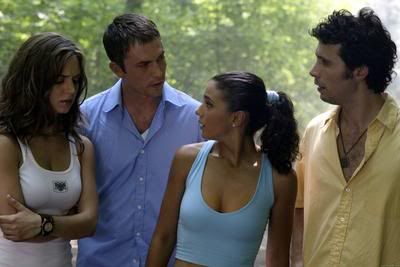 Before I start, the quote at the top is off of the back of my Blu-ray box and I may add in some of the quotes from it on here.
Summarization:
Chris Flynn is driving his car for a job interview in another city. However, an accident with a trunk transporting chemical products blocks the highway and Chris looks for an alternative route through the mountains of West Virginia to accomplish his schedule. Due to a lack of attention, he crashes another car parked in the middle of the road with flat tires. Chris meets a group of five friends, who intended to camp in the forest, and they decide to leave the couple Francine and Evan on the place, while Chris, Jese, Carly and her fiancé Scott tries to find some help. They find a weird cabin in the middle of nowhere, where three violent cannibalistic mountain men with the appearance of monsters live. The two couples try to escape from the mountain men while chased by them. (from IMDb)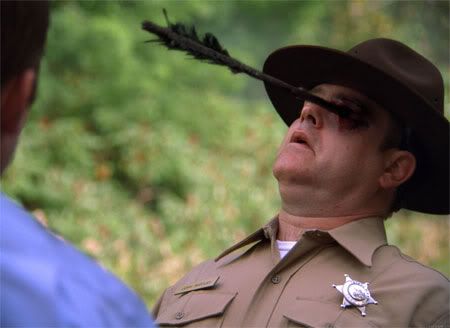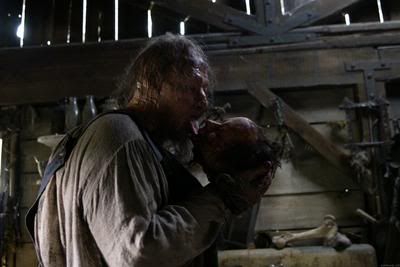 Review:
This movie was great but had a few flaws, the film itself looked pretty low budget and some of the camera angles just didn't fit. I expected a lot more from the movie because of the description on the back of the Blu-ray case. This movie should be clasfied as more of a thriller rather than horror. It did have shocking moments but there were few, because what happened was pretty predictable. I think that on the following movies, 20th Century and the producers got their materials a little bit more together, improving the quality and scare tactics. I give this movie props, because of how original the ideas were but I still think it could be done better.
I give this movie a 6.5 out of 10.