Hell yeah brother, it's groovy this weekend.

We have kicked off the 48 hour film fest with our genre of Vacation/Holiday. (never heard of that genre, but whatever)

Our film set is only 15 minutes from where I live as one ngle location (fucking awesome) and it's going to take place in a 1 million dollar motor home that is used for country ngers. (even better)

My character is a 70's burnout Vietnam Vet with hockey stick deburns, and mustache. I play the bus driver/mechanic.

This my horror loving friends is going to kick cinematic ass. More later...
aceofspades70 Saturday 7/14/2012 at 03:26 AM | 94698
my character....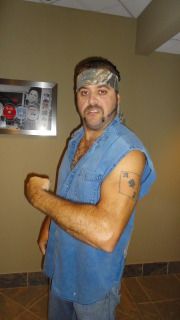 aceofspades70 Sunday 7/15/2012 at 12:18 AM | 94777
Love the look!! That's awesome. Any more pics??
Anonymous Monday 7/16/2012 at 11:01 PM | 94850
Love the look!! That's awesome. Any more pics??

Thanks man, lol, my favorite character yet! Yes...more pics on FB, you can see them if you're on my friends list. They're random and from other people.
aceofspades70 Tuesday 7/17/2012 at 04:53 AM | 94859
aceofspades70 Monday 7/30/2012 at 01:25 AM | 95148