If there is any actor that would have me step out of the horror genre to watch his work, it would be Donald Pleasence.
I have found new favorite films because he was in them, watched films I've never heard of before seeing his name on the internet movie database.
As any hardworking actor of his era, he never did a horrible job just because of the content or quality of a film.
Though he was eventually typecast as a seeming antithes of evil, he meandered about in many roles, some mad and looming, some everyday average, some all of the above.
There really is some about his "hypnotic eye" gazing above us, watching to make sure we appreciate those most underrated, the ones hidden in the shadows of those plagued movie stars. Here is a list of some of those roles Pleasence played, yes, mostly from the horror genre, but no less enthralling.
Creepers is a wonderful film, and one's of Argento's best.
I had been getting into his films at one point, and what made me pick it up was seeing Donald Pleasence's name on the box.
His role is minimal, but nonetheless brilliant.
He plays Professor John McGregor, assting Jennifer Connelly in finding a serial killer.
Pleasence plays a priest in Prince of Darkness (how do you like that alliteration?), this time battling evil in the guise of a canister of ooze.
There isn't much going on with his character here, but its worth waiting for his screen time.
As obsesve as the character he is supposed to be the antithes of, his role in Halloween gnifies the gray area between sanity and insanity, and solidifies a typecast, different in that he is not the outright ghoul or creature, yet is as enduring and foreboding as such.
In Cul-De-Sac (not an outright horror film by any means, but thrilling nonetheless) Donald portrays a man who, by his circumstance, delves into madness, and unfortunately with no pay off at the end.
He is not able to relieve his stress and insanity by offing his wife, or defeating his opponents.
He must only endure until the end.
If there is any character outde of the role of Dr. Sam Loomis that is as recognizable, it would be Blofeld in You Only Live Twice.
In this role, Pleasence's appearance speaks more than words, and is the blueprint for Mike Myers' Dr. Evil.
If anyone needs a quick jump in a x degrees of Kevin Bacon, well, here you go.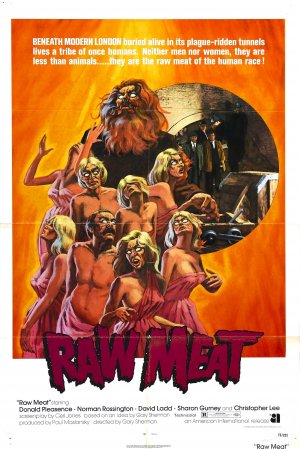 One character that seems stands alone in its quirkiness is Inspector Calhoun.
Pleasence's dry humor is outstanding.
Though this film is creepy and well made, it would be worth seeing it just for the scene between Pleasence and fellow british actor, Christopher Lee.