Several weeks ago we spread the word that Scream Factory was gearing up to release PHANTASM II onto Blu-ray for the first time here in the States. However, at the time of writing none of the bonus features had been announced. Well all that can now be put to rest, because the powers-that-be have finally let the cat out of the hat revealing all the goodies that'll be packed on this must have Blu-ray. Read on to find out all the details.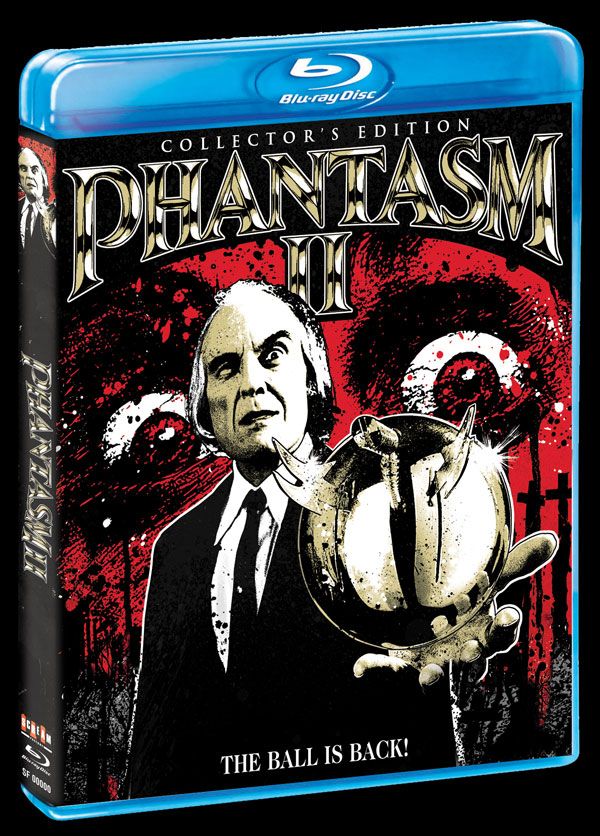 This spring 2013, Scream Factory further invites horror enthuasts and movie collectors to feast their eyes on more gory goodness and spark their senses when Don Coscarelli's PHANTASM II Collector's Edition unleashes on Blu-ray and DVD on March 5, 2013 for the first time on Blu-ray. This collector's edition features an anamorphic widescreen presentation, exciting bonus content, newly rendered retro-style artwork, a reverble wrap with theatrical key art and more!
PHANTASM II Collector's Edition Blu-ray has a suggested retail price of $29.93 and $19.93 for the DVD.
**Avid horror movie fans and collectors take note: Those who pre-order PHANTASM II from Scream Factory will receive an excluve 18"x24" poster featuring the newly commisoned artwork! Only 500 PHANTASM II posters will be printed, and will only be available while supplies last.**PHANTASM II Collector's Edition: The Tall Man is back with a vengeance in Phantasm II, the second chapter in the cult clasc Phantasm series!
Released after seven years in a mental hospital, Mike convinces his old pal Reggie to join forces with him to hunt down and destroy The Tall Man once and for all. Mike's vions lead the two to a quiet little town where a horde of flying killer balls aim to slice and dice their gruesome way through everyone.
Exploding with special effects, unparalleled thrills, horror and suspense, Phantasm II climaxes with a blood-curdling concluon that you have to see to believe.
Special Features Include:
Audio Commentary with director/writer Don Coscarelli and actors Angus Scrimm and Reggie Banister "The Ball is Back!" Documentary – featuring new interviews with writer/director Don Coscarelli, actors Reggie Banister, Angus Scrimm, Paula Irvine, Samantha Phillips and more Vintage Behind the Scenes footage: Makeup Effects Vintage Behind the Scenes footage: On the Set "The Gory Days with Greg Nicotero" Featurette Deleted Scenes from archival film elements from Don Coscarelli's archive Additional Scenes – alternate takes and deleted gore footage from the workprint Original TV Spots Trailers for Phantasm , Phantasm II & Phantasm III Still Galleries (Behind the Scenes , Makeup Effects , Hollywood Premiere ) Rare short film starring Rory Guy (aka Angus Scrimm) as Abraham Lincoln
Source: the 'Bid