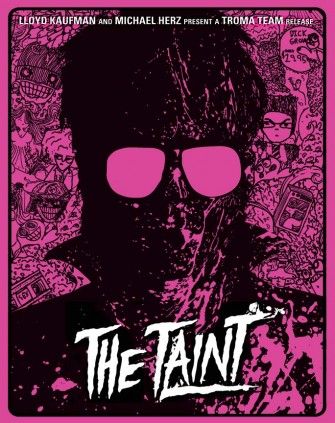 Troma Entertainment, in conjunction with C.A.V. Distribution is set to release the Drew Bolduc/Dan Nelson film THE TAINT onto DVD beginning March 12th. Yeah, you read that right, THE TAINT. I'm excited about this release personally.
I have always been a fan of the Troma movies. It
takes me back to a time in film when it was okay to say," what rules? "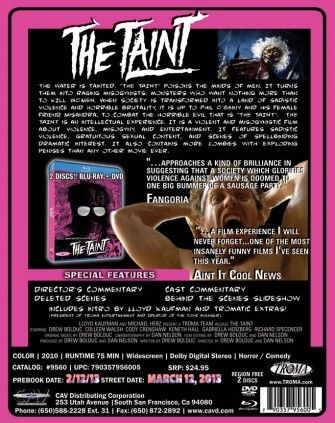 THE TAINT actually looks to be a lot of fun, from the retro-like cover to the synops, it definitely has that Troma feel. Check out this awesome trailer for "The Taint." Graphic Troma fun. It grabbed my attention!
http://youtu.be/qTxiZiOTYcw
"The water is tainted. The Taint poisons the minds of men. It turns them into raging misogynists: monsters who want nothing more than to crush women's heads with rocks (or other objects). When society is transformed into a land of sadistic violence and horrible brutality, it is up to Phil O'Ginny and his hot friend, Misandra, to combat the horrible evil that is The Taint. Can they survive in a world brimming with castration and endless head crung?!" Remember to mark your calenders for March 12th Bidites!
Source- www.
http://iconsoffright.com
Source -
http://www.youtube.com