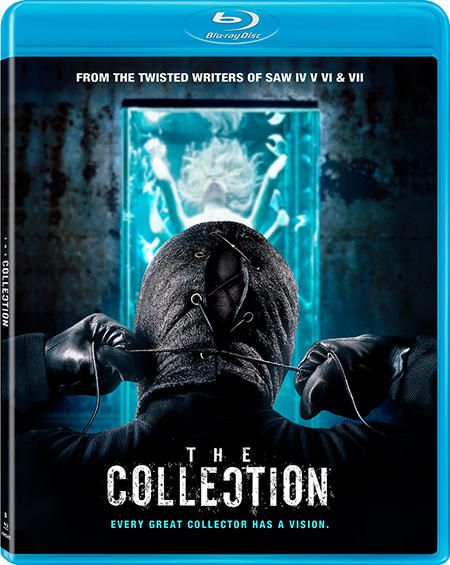 This Marcus Dunstan directed film "The Collection" is coming to Blu-ray by way of Lionsgate Films. It sounds like it could be a really interesting and solid movie. Here is the scoop on the goods, you decide for yourself Bidites!
From the press release: The Collection arrives on Blu-ray Disc, DVD, Digital Download and Video On Demand on March 26 from Lionsgate Home Entertainment. The Blu-ray Disc and DVD will both feature Ultraviolet Digital Copy. An official selection of the Screamfest Horror Film Festival and Fantastic Fest, The Collection follows a twisted madman who "collects" humans in a booby-trapped house of horrors. Starring Josh Stewart (The Dark Knight Rises), the film also stars Emma Fitzpatrick (The Social Network), Lee Tergesen and Christopher McDonald (HBO's "Boardwalk Empire"), and is written by established horror writing team Patrick Melton and Marcus Dunstan (Feast series, Saw IV – Saw 3D: The Final Chapter). Directed by Dunstan, it is the second time he has directed a film the pair has written. LD Entertainment released the film in theaters November 30th, 2012.
The Blu-ray and DVD include audio commentary with Director/Co-Writer Dunstan and Co-Writer Patrick Melton. The Collection will be available on Blu-ray Disc and DVD for the suggested retail price of $24.99 and $19.98, respectively.
Synops:
When Elena (Fitzpatrick) is talked into attending an underground warehouse party with her friends, she finds herself caught in a nightmarish trap where the revelers are mowed, sliced and crushed to death by a macabre series of contraptions operated by a masked psychopath. When the grisly massacre is over, Elena is the only survivor. But before she can escape, she is locked in a trunk and transported to an unknown location.
Fortunately for Elena, one man—Arkin (Stewart) —knows exactly where she's headed, having just escaped from there with his life and sanity barely intact. Elena's wealthy father hires a crack team of mercenaries to force Arkin to lead them to the killer's lair. But even these hardened warriors are not prepared for what they encounter.
BLU-RAY/DVD SPECIAL FEATURES* • Audio commentary with Director/Co-Writer Marcus Dunstan and Co-Writer Patrick Melton • Five Behind-the-Scenes mini-featurettes • Alternate/deleted scenes • Theatrical trailer
Source - Horrornews.net