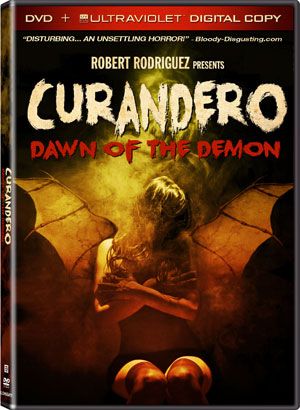 Rodriguez! There is a new piece of what I like to refer to as RR history, preparing for release, almost available for us to add to our collections. CURANDERO: Dawn of the Demon from acclaimed filmmaker Robert Rodriguez will be available on DVD with ULTRAVIOLET™ Digital Copy and Video On Demand March 12 From Lionsgate Home Entertainment and Miramax.
From The Press Release:
From acclaimed filmmaker Robert Rodriguez (n City, Machete, Planet Terror) comes Curandero: Dawn of the Demon, a supernatural thriller with an action twist.
Written and co-produced by Rodriguez and executive produced by Harvey and Bob Weinstein (Inglourious Basterds, The Lord of the Rings Motion Picture Trilogy), Curandero: Dawn of the Demon is an action-packed horror flick that takes a couple on a horrifying journey through the deepest bowels of the Mexican underworld.
Also starring longtime Rodriguez collaborator Carlos Gallardo (El Mariachi, Grindhouse, Desperado), the Curandero: Dawn of the Demon DVD will include audio commentary with the directors.
Source-MoreHorror.com