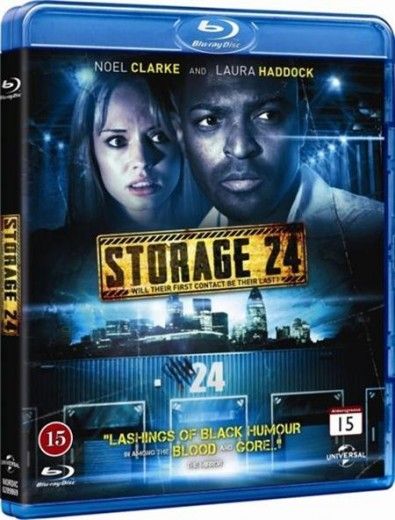 A film that has been receiving potive feedback in the horror world is Johannes Roberts' "Storage 24". Time is ticking as it will soon be available to the masses, with the news that it is hitting DVD and Blu-ray on March 12th from Magnet Releang which is fantastic! Magnet and its partnering studio Magnolia have both had a recent hit streak with solid horror films such as "John dies at the end", The ABC'S of Death and both V/H/S and the forthcoming sequel, S-VHS, this all giving them grand trust and credit with the community of horror. Making them one of the top sought after companies that is operating today.
http://youtu.be/tZ4RYwZGNX0
Synops: London is in chaos. A military cargo plane has crashed leaving its highly clasfied contents strewn across the city. Completely unaware London is in lockdown, Charlie (Noel Clarke) and Shelley (Antonia Campbell-Hughes), accompanied by best friends Mark (Colin O'Donoghue) and Nikki (Laura Haddock), are at Storage 24 dividing up their possesons after a recent break-up. Suddenly, the power goes off. Trapped in a dark maze of endless corridors, a mystery predator is hunting them one by one. In a place degned to keep things in, how do you get out?
Bonus Features –Feature Commentary –Creature Development –Featurette –Production Degn & Costume Featurette –Muc & Sound Degn Featurette –On Set Featurette –Video Blogs –A Day In the Life Of: Clarke & O'Donoghue –Scene Commentaries –Deleted Scenes –Photo Gallery
Blu-ray Disc Blu-ray Price: $29.98 SRP Street Date: March 12, 2013 Running Time: 86 minutes Catalog #: 10529 MPAA Rating: R
DVD DVD Price: $26.98 SRP Street Date: March 12, 2013 Running Time: 86 minutes Catalog #: 10528 MPAA Rating: R
What do you guys think? Your cup of tea or no?
Source- IconsOfFright.com
Source- Youtube