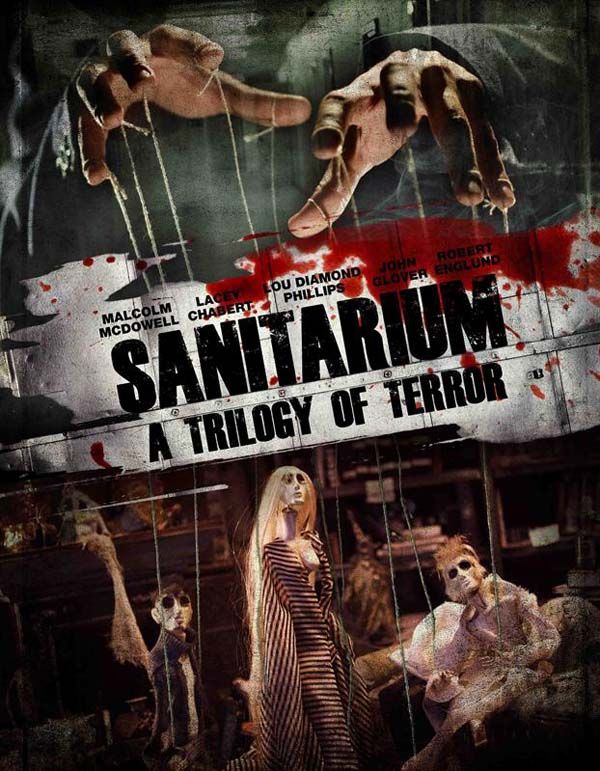 Hey Bidites here is some tasty news for you. A new anthology film which deals with the minds and the insanity that lurk within the "Sanitarium." Movies with that kind of a description always grab my attention. I look forward to seeing this film, my mind excited for that dark and crazy ride that awaits. Information and the official trailer are below.
The film also stars Malcolm Mcdowell, Robert England, Lacey Chabert, Lou Diamond Phillips and John Glover. The film features different segments directed
by Bryan Ramirez, Kerry Valderrama and Bryan Oritz.
"Sanitarium" is an original motion picture that consts of half-hour stories based on particular patients of a mental institution. Each episode begins with Dr. Stenson, the primary phycian at the Sanitarium, commenting on the recent arrival of a new patient. As Dr. Stenson speaks, the individual's story begins.
With elements from "The Twilight Zone," "Alfred Hitchcock Presents," "Creep Show," and "Tales from the Crypt," episodes explore the different narratives of the insane patients – tales which led to their crazed states of minds. These accounts reflect hallucinations, imaginary voices, and alter realities, and include themes of the paranormal, the unexplainable, and the mystical."
Imdb.com states that the film will be in theaters March 1st.
http://youtu.be/cgSsVCJ7LQA
Source- Horror-Movies.ca
Source- IMDB.com
Source- Youtube