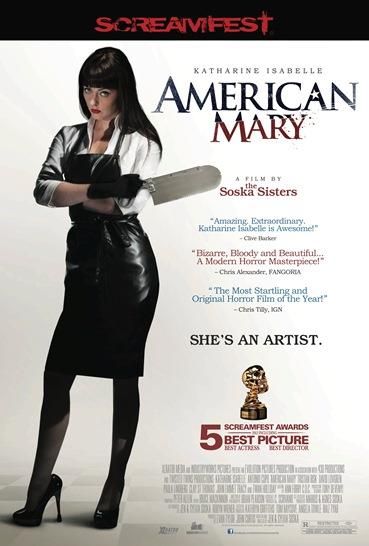 XLrator Media will be releang AMERICAN MARY on DVD and BLU-RAY on June 18, 2013.
The film is written and directed by Jen and Sylvia Soska aka "The Twisted Twins" and stars Katharine Isabelle.
Eli Roth and Clive Barker are huge fans of the twins and the horror community has deemed them the "Next Big Thing in Horror."
AMERICAN MARY is a body-modification horror, revenge thriller and psycho drama, distinguished by a riveting performance by Katharine Isabelle
http://youtu.be/ZDuUcA3ykAI
SYNOPS:
"Twisted Twins" Jen and Sylvia Soska are back with their stunning follow-up to the indie hit Dead Hooker in a Trunk. AMERICAN MARY is the story of a medical student named Mary who is growing increangly broke and disenchanted with medical school and the established doctors she once idolized. The allure of easy money sends a desperate Mary through the messy world of underground surgeries which leaves more marks on her than the so-called freakish clientele. Appearances are everything.
Running Time: 95 minutes
Rated: R
Format: DVD/Blu-ray
Aspect Ratio: 2.40 LBX
Audio Format: DVD – DD 5.1; BD – DTS HD
Bonus Features: Behind-The-Scenes, Commentary with Jen & Sylvia Soska, Katharine Isabelle and Tristan Risk
Source:
http://www.horrorphilia.com/2013/05/22/ ... e-18-2013/
Look for the Skeleton Crew's Katherine Isabelle interview later this week Here:
viewforum.php?f=308