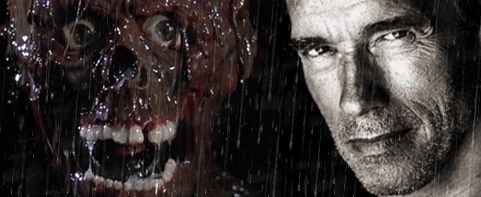 Director George A. Romero figured out a long time ago that there are many, many ways to spin a zombie tale. In 1968 he revolutionized the undead brain-eating monster with Night of the The Living Dead to comment on racial politics in society, and has nce has used the creatures to comment on everything from consumerism of fascism. And much like the plague seen in the films, that idea has spread around Hollywood - particularly of late. A show about zombies, The Walking Dead, is one of the most popular series on cable televion, and we're regularly seeing inventive twists on the genre like Jonathan Levine's Warm Bodies. Now a new project has arisen and will be taking the dead-ring apocalypse to a dramatic place - and it's chosen a very interesting lead actor.
According to Variety, Arnold Schwarzenegger is now attached to star in Maggie, a drama set during a zombie outbreak that will see the action legend play a father who goes on a long journey with his daughter to try and help cure her of a zombie bite before she can die and turn into one of them. Screenwriter John Scott 3, who is currently attached to adapt Isaac Amov's The Caves of Steel at Twentieth Century Fox, wrote the original script for the film, which was featured on the Black List (the annual list of the most popular unproduced screenplays in Hollywood). Henry Hobson, who has spent most of his career making commercials and degning titles for movies like Rango, Bad Teacher and Snow White and the Huntsman, will be making his feature directorial debut with the film.
Schwarzenegger has been making quite a few headlines as of late thanks to the fact that he recently gned on to star in the upcoming Terminator 5. The film doesn't have a director yet, but Annapurna Pictures and Skydance Productions, the two production companies behind the project, are aiming to start production in January 2014.
That said, Schwarzenegger wasn't greeted with tremendous box office results the last time he headlined a film. When The Last Stand was released in January it only managed to make $6 million in its opening weekend (coming in at number nine on the top 10), and by the end of the run the film only made $12 million, well short of the movie's small $45 million budget. The Austrian star has a number of moves in the pipeline, starting with the prison thriller Escape Plan, which will be out in October and pairs him up with Sylvester Stallone. He also leads the cast of David Ayer's Ten, which will be in theaters next January and sees him playing a game of Ten Little Indians with Joe Manganiello, Sam Worthington, Harold Perrineau, Terrence Howard, Max Martini, Josh Holloway, Olivia Williams and Mireille Enos. He is also expected to reprise his role as Trench in the upcoming The Expendables 3, which was recently given an August 15, 2014 theatrical release.
Source:
http://www.cinemablend.com/new/Arnold-S ... 38184.html