I'm a big Bond fan, seen em all, own em all, love em all.
So I'm biased when it comes to this movie obviously.
Wasn't as good as Cano Royal but still a better Bond than most.If you like action then you'll LOVE this movie . .. it's 70% action.
Quick break down without too many spoilers.
This movie starts off right after the last one ended (which Bonds don't typically do this).
Bond is trying to avenge the death of Vesper Lynn (Bond chick from Cano Royal).
While doing so he uncovers a global organization called "Quantum" - (pretty much spectre from the older Connery Bonds).
The camera work is really crazy and jarring like the "Jason Bourne" films (and they should be milar . . .same guy did the cinematography for Bourne and Quantum of Solace).A de note: the actress who plays the bond babe "Camille" is Smoking Hot!!!
Also look for the tribute to the Connery Clasc "Gold Finger".
If you know your bond you'll know what I'm talking about . .. VERY COOL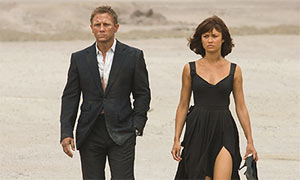 Again, if you want just a hard core action film that's pretty realistic for the most part then check this out.
Needless to say, James Bond will Return.
I give this film a 'KNIVES UP'