From Slashfilm: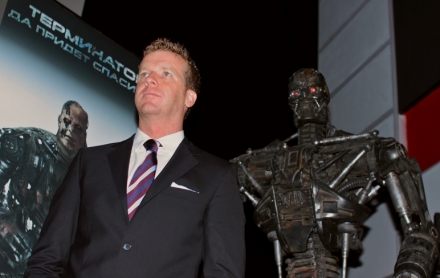 Will Arnold Schwarzenegger appear in Terminator: Salvation? When the California Governor was spotted on the set of the sci-fi sequels, rumors began to circulate that Arnold would be providing a capture of his face to implant on a younger actor's body.
Total Film was able to ask McG at a recent UK press event, and here is what the director said:"We're trying to synthese a human character with a CGI character and that may or may not have something to do with the T800," McG said with a smile. "At the moment it's not good enough. And we're running out of time."
A little cryptic, but it seems like it might fit the previous theory/rumor. And speaking of rumors, McG claims that the rumored ending to the film where John Connor is replaced with a cyborg is completely false."That is not the ending. John Connor is not the machine. We did discuss that idea, but that is not the ending, I can say that right now."
Christian Bale does speak the famous catch phrase "I'll Be Back", but in some sort of context that is 180 degrees reversed from the original film.
McG also confirmed that Bale is gned up for two sequels, which McG claims are already "arced out." Also today, Warner Bros Interactive Entertainment, Equity Games Production and Halcyon Games have announced Terminator Salvation – The Videogame. You can read the press release after the jump.