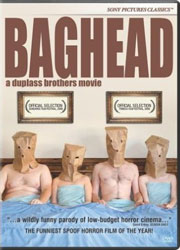 Guess this just came out on DVD but I've never heard of it . .. can anybody fill me in?
Have you seen it and would it be worth a view?
"This extremely indie horror/comedy appears to be quite the oddity of cinema, which is probably why I'm so eager to check it out. Following four characters who head off to a cabin in an attempt to make the movie that will propel them to stardom, they soon find that their proposed movie about a killer with a bag on his head has become a reality. The audience response has been very mixed, but it has mostly potive reviews."