suckface Monday 1/05/2009 at 08:30 PM | 31068
Holy Shit man... Nice work! Had no idea you did this stuff... I guess you are Suckface Studio's??? Really LOVE the Part 1 sculpt... I also am very fond of the part 5 sculpt with the hand coming out of the back of the head! You do good work r!

Keep it up bro! --Ryan


Harry Warden Monday 1/05/2009 at 08:42 PM | 31069
holy shit!That thing looks dead on, will you be selling these here on the te?


pamelavoorheesRIP Monday 1/05/2009 at 09:59 PM | 31070
that thing is money! nice work!


sausagecake Monday 1/05/2009 at 10:27 PM | 31075
I take it that this won't be wearable then, right?? I mean if it's ren and not latex. Also, this looks kind of small. Was this made ung a lifecast??

Thanks
SithLord Monday 1/05/2009 at 10:48 PM | 31080
WOW, be sure to post up a link to your auction in the auction section of the forum, looks amazing, can't wait to see it all finished up!


DaShape Monday 1/05/2009 at 10:49 PM | 31081
Very nice! Your work has always been amazing, but this one is very very well done.


DarkArtist81 Monday 1/05/2009 at 11:23 PM | 31084
kweandee Tuesday 1/06/2009 at 01:48 AM | 31112
Definitely the best likeness of freddy I have seen ,, This does kick major ass ...


maskmaniac Tuesday 1/06/2009 at 01:54 AM | 31113
Wow that is some awesome sculpt! Well done! And the price will be?
Klempo Tuesday 1/06/2009 at 08:48 PM | 31194
very nice work.http://www.twistedblings.com/gallery/albums/horror_movie_stuff/freddy_k. Twistedblings.com - Twisted MySpace layouts & stickers
condemned1 Wednesday 1/07/2009 at 02:28 AM | 31253
This thing looks GREAT. I'm interested to hear more about it.
Myers31TKD Wednesday 1/07/2009 at 02:39 AM | 31259
Thanks for all the interest guys
Richard got the first copy painted up so here's some pics of the bust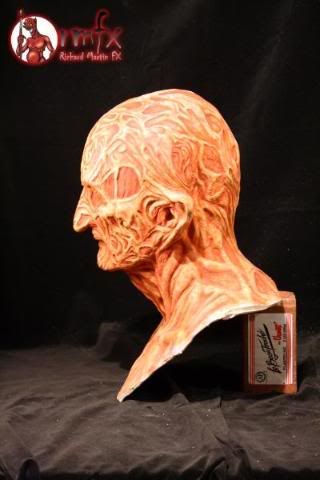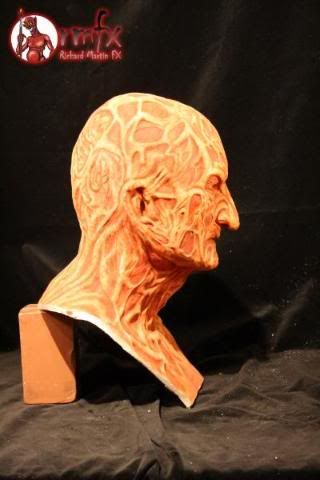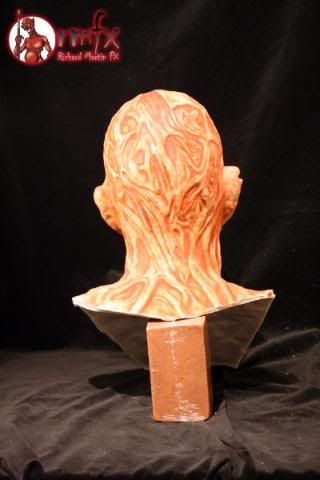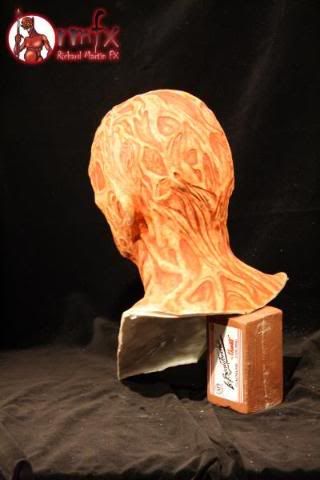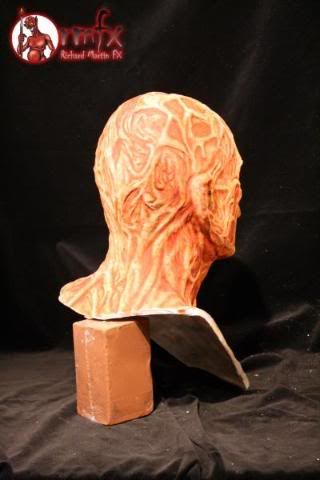 We will be producing Raw ren castings for sale so let us know if you are interested
I'll be forwarding more info to the admin in a little while
suckface Thursday 1/08/2009 at 05:01 PM | 31445
Thats great!

Very nice work!
Evildsm Thursday 1/08/2009 at 05:24 PM | 31446
Hey guys, just spoke with Daz aka Suckface and he wanted me to relay this message....
we are selling the busts for £175 (around $238 US) this price includes shipping outde of the uk
the busts are cast in rota cast ren and are 1:1 scale
We are now pulling the casts and selling as first come first serve.
We will at a later date produce a deluxe fully finished licone bust .
We hope to get some up on the auction te very soon
Thanks again Daz
So there we go guys, we have a price on the ren bust and I am working on seeing what the price of the deluxe full overhead licon busts will be and if we can squeeze a HorrorBid discount from Daz.
Here are the pics again of it finished....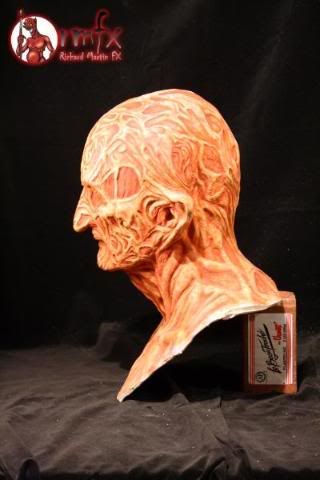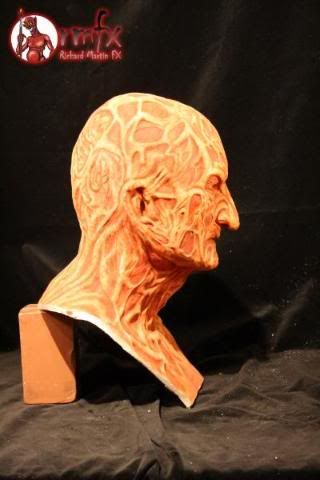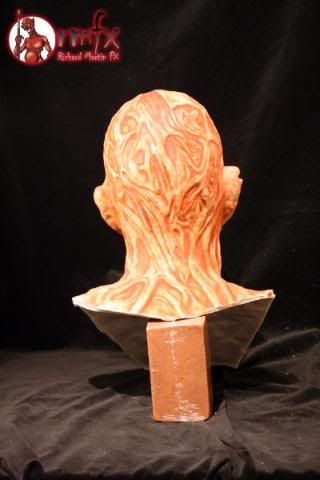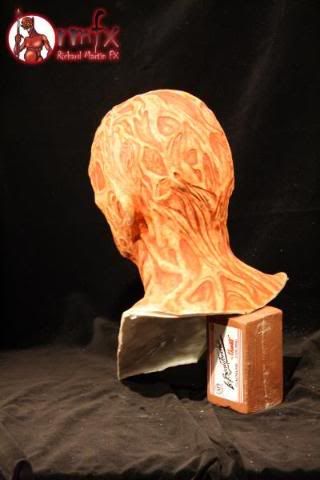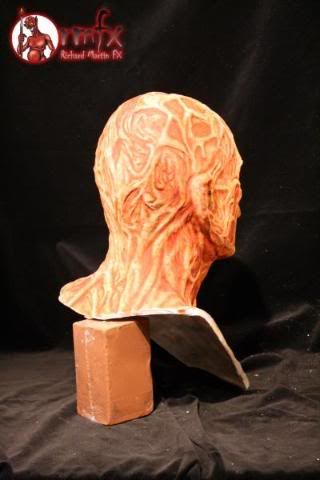 Horror Domain - Cursed Evil Overlord Thursday 1/08/2009 at 10:20 PM | 31461
Man! If I would not bougt the MR. Bernz mask one month ago I would bought this bust! This bust is awesome!!!


Klempo Thursday 1/08/2009 at 10:39 PM | 31464
a licone mask, holy shit that would be the ultimate freddy mask ever perioid! the damn thing looks like you chopped englund's head off.
pamelavoorheesRIP Friday 1/09/2009 at 12:30 AM | 31488
I know, licone mask is just icing on the cake!

It's raining Freddy Masks as of late!!!!!


DaShape Friday 1/09/2009 at 12:44 AM | 31494
Here's how they look when finished :)

" alt=";)" title="Wink" />
suckface Saturday 1/10/2009 at 08:18 PM | 31659
well can anyone on here argue that this isn't the best Freddy ever made? i thought butterfingerz was good but this blow it out of the water am i right?


pamelavoorheesRIP Saturday 1/10/2009 at 09:40 PM | 31660
Here's how they look when finished :)
Please remember we are only producing the busts as raw unpainted ren casts
info is in the sale section on the forum
Feel free to ask about a painting service
Hats and sweaters are not available
Thanks again for everyones response on this bust :thumbsup:
Just to clear something up Booman wrote
the licone veron that we will be working on will not be wearable The problem is that with getting the likeness accurate to Robert in makeup if we where to pull licone masks from this sculpt they would not be the best fit on a generic shaped head as Englund has a very small lower jaw which would stretch and posbly leaving the mouth slightly open on the licone mask on your average head shape.
We do plan to still do a deluxe licone display fully finished and very limited and then all things being well we will start work later in the year on a wearable licone mask making it more generic for more peoples head shape which will mean very slightly loong the Englund look underneath ?
Thanks again and feel free to contact us if you have any interest
holy shit!!!!!!!!!!!!!! I am buying this, say right now!
oldskool Sunday 1/11/2009 at 07:52 PM | 31725
Thanks again for everyone's response to the bust
We are currently buying more ren to keep producing the busts and we should be bringing 2 raw busts on to Horror Bid at some point next week
We look forward to working with Booman to bring you some excluve finished busts only available here so keep an eye out for those i the future If in the mean time anyone would like to place an order drop me a pm
suckface Sunday 1/18/2009 at 11:58 AM | 32525
we have made a licone mask from a test pull for the deluxe licone busts we will be making and this has turned out pretty damn nice

this will be the only one that we offer as this sculpt was never intended to be a wearable mask.

we have had a lot of people asking how much for it

and we think it is unfair to name a price to one and not anyone else so Because of this we have decided to auction it off to the highest bidder

all the details are over on night owl forum

we will not list any of the offers as we don't want this to turn into a bidding war, just mply offer what it is worth to you having a one off accurate Freddy mask :)

here's a few pics " alt=";)" title="Wink" />
suckface Sunday 1/25/2009 at 09:19 PM | 33238
Looks awesome Daz .. Would like to know what ze head would it fit .. the ren cast is about 23 inch head ze I would think the same for this mask ?

Thanks

Lewis
maskmaniac Sunday 1/25/2009 at 09:57 PM | 33249
Daz what a freaking amazing mask right there! WOW! There is just something so great about Freddy in licone. I can't wait to see some costume shots of these!!!
Horror Domain - Cursed Evil Overlord Sunday 1/25/2009 at 10:25 PM | 33254
That looks amazing.

Honestly, that's the only licone Freddy mask I've seen that actually looks accurate when worn.

Most of them seem to have very distorted features, especially the nose.

You would make a killing if you started producing these.

Awesome job!
gummi Monday 1/26/2009 at 12:01 AM | 33259
WOW! That is some awesome looking licon mask!
Klempo Monday 1/26/2009 at 11:34 AM | 33319
Suckface Studios Rocks!

Surely we are going to keep both eyes on it. Amazing Freddy!


LÜCKMANN Monday 1/26/2009 at 02:21 PM | 33326
this puppy is up for auction now!!!!!!!!!!!!!!!! http://www.horrorbid.com/auction_details.php?name=pt-4-Ren-Freddy-bust&auction_id=110764
DaShape Tuesday 2/03/2009 at 11:23 PM | 34289