Got a big box o goodies from Sam today...will start with some pics of his Bad Dream (his Fred mask...not his recurring nightmares of Ryan clad only in keychains)
I'm as familiar with Sam's work as anyone so I knew this piece would turn out great. Even after seeing all his progress pics and prototype mask I was still blown away when I opened the box. This is one of those masks that you need to see in person to really appreciate.
I just popped a pair of cheap acrylic eyes in for these pics.
Thanks for looking; Lee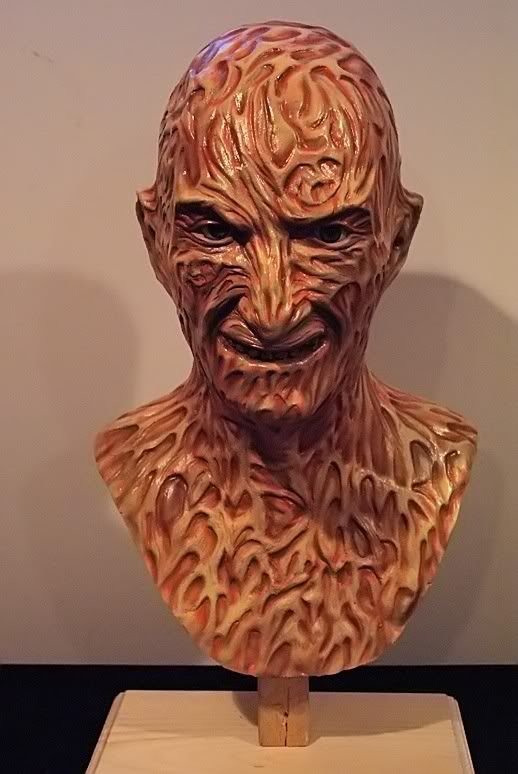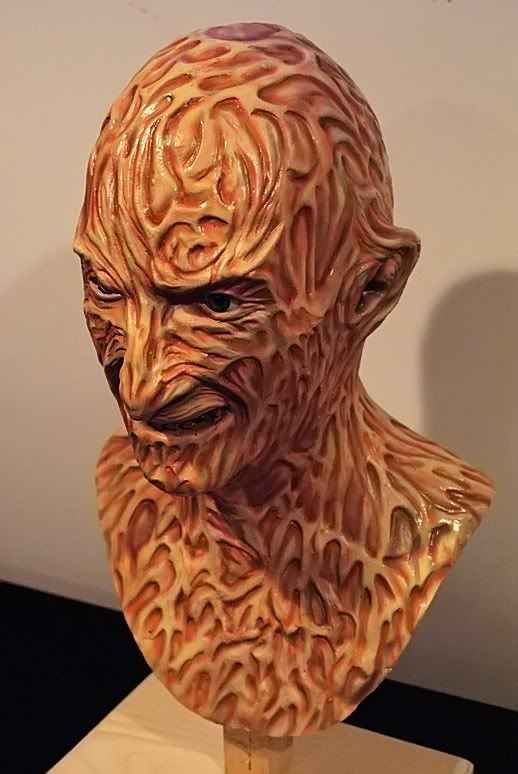 lblambert Wednesday 2/04/2009 at 09:20 PM | 34466
ahem. . costume pics please.


DEUSEXMACHINA222 Wednesday 2/04/2009 at 09:45 PM | 34468
Lee,

That is AMAZING!! I will be getting one VERY soon! I just received today a HEAVILY weathered H2 DEVIOUS &

a Tramer DEVIOUS!!

That Freddy rules!!!!!!!!!!

Sam's the best!

-Big D
DEVIOUS Wednesday 2/04/2009 at 09:46 PM | 34469
DrenTheLiar Wednesday 2/04/2009 at 10:05 PM | 34479
BEST FREDDY I have ever seen!

Holy shit..............

-Big D


DEVIOUS Wednesday 2/04/2009 at 10:14 PM | 34483
TxSteveTodd Wednesday 2/04/2009 at 10:21 PM | 34485
The close ups really show the quality! excellent work....I currently do not own anything by the maestro Sam but I plan on it soon! kudos!
ny ghoul Wednesday 2/04/2009 at 11:16 PM | 34496
Looks awesome Lee .. Great score ..
maskmaniac Thursday 2/05/2009 at 01:19 AM | 34504
looks really great Lee, nice work Sammy boy!


Horror Domain - Cursed Evil Overlord Thursday 2/05/2009 at 01:37 AM | 34508
Johnny Bisco Thursday 2/05/2009 at 01:48 AM | 34513
Matthew Mayhem Thursday 2/05/2009 at 02:04 AM | 34516
That's a very nice copy, indeed. Mine came last week, although mine is foam filled and has glass eyes.
SithLord Thursday 2/05/2009 at 02:21 AM | 34521
kaizu Thursday 2/05/2009 at 08:32 AM | 34546
Freddy looks great lambert! Great sculpt! ME LIKE!
Klempo Thursday 2/05/2009 at 10:33 AM | 34554
Lee, you are right. You really need to see this one in person to understand the awesomeness of it.

Sam gave me my #3 copy yesturday and I was just stunned.

I couldn't stop looking at it.

I kind of wished I went with the foam filled with the eyes but I think I will just pick up another copy in the future and do that with it.

Your copy looks great!
Evildsm Thursday 2/05/2009 at 09:04 PM | 34600
Mike you need to take some pics of your Freddy man and post them up. I'm sure everyone would love to see it.
quietonthesetstudios Thursday 2/05/2009 at 11:48 PM | 34619
wow... ..........wow...That is very nice!!! I want one more than I did before now... Only I want glass eyes but No foam... I wonder what that would run me? hmmm... Maybe once I get myself streight then I can get one but until then... " "...

Anticipation...

Nice Score bro! --Ryan


Harry Warden Friday 2/06/2009 at 06:49 AM | 34686
Congrats Lee to get this awesome mask, and Sam to make it the best. It's a great score, man! And Mike, be a good guy and show us your killer mask, too.

2 thumbs up!
LÜCKMANN Friday 2/06/2009 at 09:27 AM | 34695
sweet score and pics leeseth
halloween killer Saturday 2/07/2009 at 01:52 AM | 34770
Awesome Freddy....but then again let's face it most everything Sam makes is pretty fucking awesome. This makes another one of his pieces I plan to buy sometime in the near future although I would go w/the eyes and foam filled. I just like them better like that.


kweandee Saturday 2/07/2009 at 08:45 PM | 34848
Michael Aspinwall Saturday 2/21/2009 at 03:21 AM | 36826