As you know Andrew of JITB wanted to tweak his SCARRED masks and he's such a killer dude he offered to do it for anyone that wanted it. So I sent mine to the maestro to see what exactly would come of my already killer Scarred mask. I had asked Andrew to customize mine to look like it did by the end of the film....bloody and uber dirty. I sent the mask back to Andrew and he worked some magic! Got it back and let me tell you IT F'ING KILLS!!!!!!! The "Zombified" Scarred!!!!
before: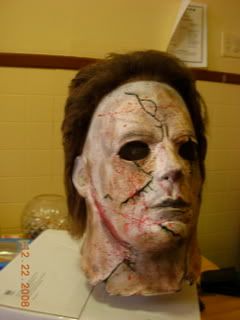 after: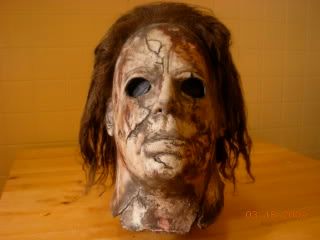 ny ghoul Wednesday 3/18/2009 at 09:25 PM | 40052
I like the looks of that, looks pretty good.
Sourfacedbastard Wednesday 3/18/2009 at 10:23 PM | 40053
i think it looks great man.

i got a Torn coming from Andrew

and i cant wait to get it
timbs2007 Thursday 3/19/2009 at 08:38 PM | 40192
thanks guys.....yeah you cant go wrong with Andrew. Talented and fan/customer friendly!
ny ghoul Friday 3/20/2009 at 03:00 AM | 40225
The extra beef gives it more life
Looks more screen used
kaizu Friday 3/20/2009 at 05:26 AM | 40238
The way it looks after zombified is like WTF! Pretty good job JITB! Big Eyes here likes!
LÜCKMANN Friday 3/20/2009 at 02:31 PM | 40264
Thanks bros!

yeah i think he nailed it. This is customized to what I asked for but in general Andrew's re-working of the Scarred is ck. Im tempted to get a regular one now.
ny ghoul Friday 3/20/2009 at 04:37 PM | 40275
Z willlllllllly Saturday 3/21/2009 at 12:51 AM | 40321
Michael Aspinwall Saturday 3/21/2009 at 01:00 AM | 40325
ny ghoul Saturday 3/21/2009 at 03:06 AM | 40343
Wow,ghoul, that's looks super-killer! Andrew's a stand-up guy for doing that, and the dirtiest is awesome!
strangerathome Sunday 3/22/2009 at 04:56 AM | 40512
Looks awesome. Certainly makes me want the Torn one he has out even more after seeing the work he did on that one.
cropsy Monday 3/23/2009 at 12:08 PM | 40687