Just got this one in from Jon today. I've been looking forward to getting this one nce I saw the first pics of Jon's sculpt. The finishing work on this piece is just outstanding. It's hard to take any pics that actually do this one justice.
Thanks for looking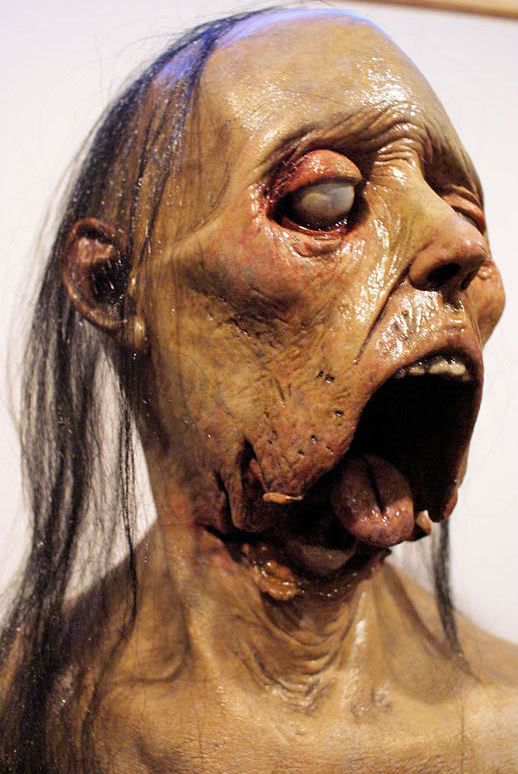 A couple with the flash: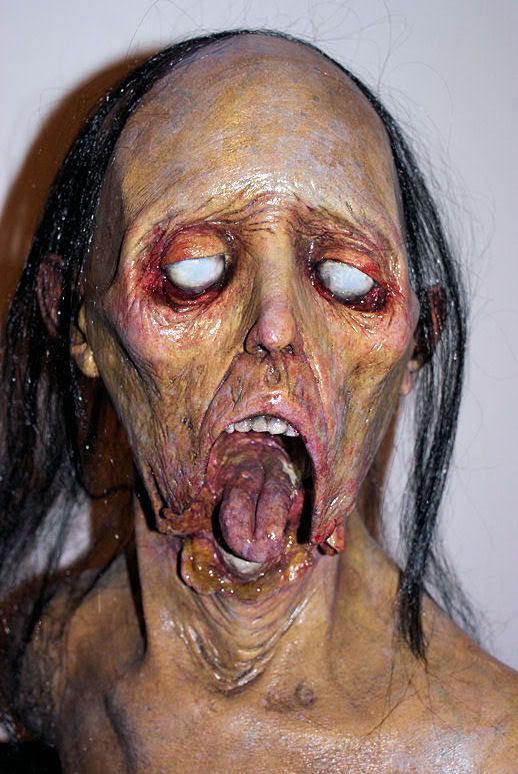 With my other Fuller zombie:
lblambert Thursday 3/19/2009 at 09:56 PM | 40197
Damn Lee... Thats very kool brother! To be completely honest with you, Those are the best zombies that I've ever seen! IMO... Very Brilliant Sculpt and one hell of a Fantastic paint job! I can only imagen how well they stand out in the mancave bro!

Great Pick Up!!!

On a de note. I asked John what he charges to do commison work on a piece, just for future referanceses... I had no idea that it would that costly... I just figured it would be rather neat having a one of a kind piece, but I can't aford 3K-5K for a personal piece...

If I ever hit the lotto, I will definatly pay a couple vists to him. I am new to him as an artist and had no idea of him, until just recently and deded to check out his te. His work is Phonominal. Everything looks amazing, and top notch! I love the way he blends all those colors in on his pieces.

He does some of the best paint work I've ever seen!

--Ryan
Harry Warden Thursday 3/19/2009 at 10:04 PM | 40198
Awesome bust!

I'm another one of Jon's fans that can only dream of owning his work.
Snoballz Thursday 3/19/2009 at 10:22 PM | 40200
Hey Ryan you will get his piece like this on Ebay for around 150-200 dollars. Alien is usually at the end sold for 100 dollars, mutant and frankenstein 100-150. But if you wont I dont know witch with torso you will have to give a little more money. He is allways selling his things on Ebay. Jon Fuller has awesome busts, masks and also Lamberts bust is awesome; details, paint job is just Congrats Lambert....again!


Klempo Thursday 3/19/2009 at 11:45 PM | 40203
very nice Lee. Nice addition to the collection.

take care, Tommy
Homicidal9 Friday 3/20/2009 at 01:25 AM | 40212
That's a jaw-dropper.

*drum roll*

Hahaha.
DrenTheLiar Friday 3/20/2009 at 02:07 AM | 40218
The profile shot and the

shot taken from under looking up (where you get a real good look at the mouth area) are incredible. One of the most realistic corpses Ive ever seen.
ny ghoul Friday 3/20/2009 at 02:46 AM | 40222


This is going to run for HOF!!!


LÜCKMANN Friday 3/20/2009 at 02:53 PM | 40267
HOLY SWAMP TESTICLES BATMAN!!!!!!! Helleva an amazing score Lee!Fuller's work is insane!
Horror Domain - Cursed Evil Overlord Friday 3/20/2009 at 04:08 PM | 40273
kaizu Friday 3/20/2009 at 04:33 PM | 40274
Holy SHIT! Both masks are absolutely incredible!!!!!!
Michael Aspinwall Saturday 3/21/2009 at 12:59 AM | 40324
that is some amazing work. I love the detail put into them and can only imagine the reactions they would get from anyone who walked into that room.
cropsy Monday 4/06/2009 at 03:37 PM | 41924