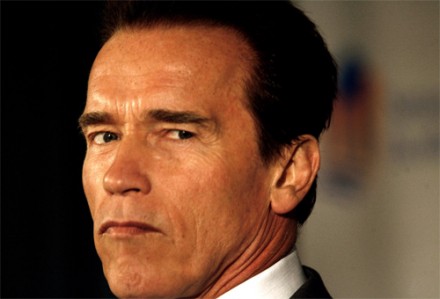 According to the official webte of the Governor of California, Arnold Schwarzenegger (the Governator), has reportedly addressed his role in McG's Terminator Salvation in a new webcast. His "maybe" left people even more confused… but thankfully, Variety have stepped in to reveal exactly what we can expect.
Apparently, a CG veron of Schwarzenegger really will be appearing in the film. They describe the process by which this alter-Arnold was created thus:
"A body-cast mold of Schwarzenegger, created when he first appeared as the muscle-ripped cyborg, provided the bas for a digital-effects veron of his famous character. The figure appears in Terminator Salvation as a living, breathing actor".
I guess the body cast has just been tting around for 25 years and was just pulled out of storage someplace. I assume Roland Kickinger (the actor playing Schwarzenegger's Character) provided motion capture, or an on-set torso for the acting Arnie to be pasted over…?
Other comments in the Variety article suggest quite clearly that this CG creation has no lines to recite, so no voice over work would have been required:
"Schwarzenegger viewed the resulting footage and gave his go-ahead just in time for McG to include the footage before the helmer completes his cut of the movie".
I'm actually looking forward to this more and more.
Last week while I was out of town for work I watched all three Terminator movies and it got me all ramped up to see this one.
Please Don't Suck, Please Don't Suck, Please Don't Suck, Please Don't Suck, Please Don't Suck.