sorry for the cheesy subject title....watching too much hockey. Anyway....this beauty came today and I fucking love it. Pics don't do this mask justice. HSS means quality and craftsmanship. I love this mask!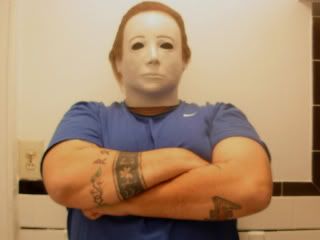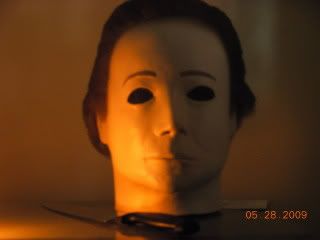 ny ghoul Friday 5/29/2009 at 12:51 PM | 46963
That copy turned out great! Nice score.
quietonthesetstudios Friday 5/29/2009 at 03:51 PM | 46969
Sweet copy!

The HSS H4's are the best h4s hands down!

It is not one of those masks where it depends on what copy you get.
Evildsm Friday 5/29/2009 at 04:05 PM | 46970
ny ghoul Friday 5/29/2009 at 04:12 PM | 46972
I haven't seen a worn pic from you in a long time

That looks great on you

Nice display pics too. Congrats

kaizu Friday 5/29/2009 at 09:33 PM | 46995
congrats on one hell of a score bro
timbs2007 Saturday 5/30/2009 at 12:27 AM | 47031
Thanks Kaizu and Timbs!

Yeah Id love to do up some more worn pics especially costume pics BUT my wife gets cranky on me when I creep around dressed like Myers and my kids are too young to take a good pic lol. I guess its me and the ol' timer!
ny ghoul Saturday 5/30/2009 at 04:08 AM | 47056
very nice i wish my broke ass could get one


Johnny Bisco Saturday 5/30/2009 at 10:42 AM | 47070
very nice i wish my broke ass could get onethanks bro! lol the worse/best thing is that I really have NO buness buying masks right now (Ive bought a few pieces recently) but shit. I could be dead tomorrow.

Ah...the next thing Im going to dump $ on. Theres a place in Philly (I have the name written down somewhere) that used to do all the MLB unis for DECADES. They lost their gig some years ago BUT they still own all original patches and fabric! Sooooo if you wanted a 50's 60's or 70's jersey of ANY team....you'd get an EXACT replica....WITH original new old

stock patches and fabric! they are $400 and up but condering "replica" jersey's in Cooperstown are like $200.....
ny ghoul Sunday 5/31/2009 at 06:10 AM | 47138
halloween killer Friday 6/05/2009 at 11:31 PM | 47564
Michael Aspinwall Tuesday 6/16/2009 at 10:01 PM | 48573