I just picked this one up and figured I'd post a few pics. This is one of a handful of foam-filled collector busts that Chuck did. IMO this is probably the best Dr. Tongue sculpt to date.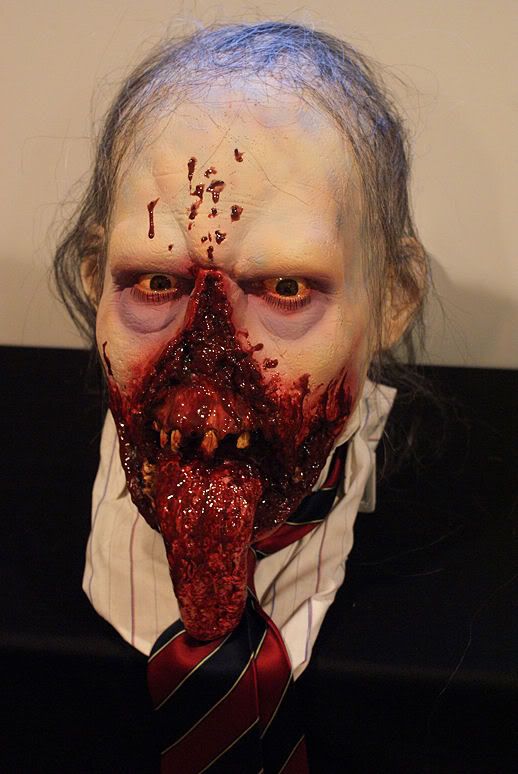 lblambert Friday 6/05/2009 at 12:07 AM | 47487
Wow. Kind of freaky but I like it.
Klempo Friday 6/05/2009 at 01:04 AM | 47491
ck...lol love it. Congrats Lee :)
kweandee Friday 6/05/2009 at 06:48 PM | 47542
Matthew Mayhem Sunday 6/07/2009 at 04:16 PM | 47715
Michael Aspinwall Sunday 6/14/2009 at 11:21 PM | 48406
mply bad ass Lee. You should go put that one in the Hall Of Fame. I love the color of the blood and the detail of the mouth is incredible.
quietonthesetstudios Monday 6/15/2009 at 01:44 PM | 48436
Where can u buy this? does anyone know where there's one for sale???
XzombieX Monday 3/15/2010 at 04:08 AM | 63021
i love the shit out of that thing.

mike
evilsmellyclown Tuesday 3/16/2010 at 11:58 PM | 63066
The detail is insane.....utterly disgusting and real looking! GREAT score as usual!
ny ghoul Wednesday 3/17/2010 at 04:35 AM | 63068
Congrats Lee and awesome score as always.
cropsy Thursday 3/18/2010 at 01:34 AM | 63080
Sourfacedbastard Tuesday 3/23/2010 at 10:59 AM | 63158