Hey everyone. Heres my review of the Fango Con that went down in NYC in early June. The event was held at the masve Jacob Javits Center. I'll start there.
If you've never been the to Javits Center let me tell you its a MASVE state of the art and somewhat beautiful building/facility meant for conventions; shows and showcases. Every year its home to the NAtional Car Show; The boat and Yacht show; the International Food Expo; the ever popular ComiCon and more. All the said events are pretty big and take up multiple rooms and halls at the Center. Not the Fango Con. As a matter of fact if not for the advertisement on the jumbo tron in front of the building you wouldnt even know it was there. The buidling was empty and we had to be given directions by security to find the rooms and location of the horror con! In previous years the NYC Fango Con would be held at smaller venues or would team up with the awesome CHILLER THEATRE CON in NJ for a winter horror convention. The smaller atmospheres worked much better. The cavernous feel of the Javits Center took away from the vibe.
Ok...we finally get to the ticket line. $25 for the day. Ok standard fair. CHildren 6 and up? $20! wtf?!?! CHILLER? kids 12 and under FREE. BIG APPLE COMICON? same! So right off the bat my wallet is a lot lighter than when I got there! The company that runs Fango does a lot of conventions around the nation and they are all about $$$...the admison; the food; the drink; they also sell "gold" and "lver" packages proming front of the line access and premiere seating during seminars and q and a's. Its a waste. Buy your ticket for the day and have fun.
Anyway enough with the cons....the pros? EXCELLENT guest list that included DARIO ARGENTO!!!!! (i was like HOLY CRAP!); TOBE HOOPER; GUILLERMO DEL TORO; JIM MARSTERS; WILLIAM LUSTIG (who gned for FREE); LAST HOUSE ON THE LEFT re-union; KANE HODDER; TCM 2 reunion; NOFTLD reunion and more! (they also featured local talent as guests such as Alan Rowe Kelly; Monique DuPree and more. The lines were super short and the guest list was great. There werent many vendors. Several tattoo zines showed up promoting at tables. There were a few tables selling toys; dvd's and posters.
In the end we had fun and again the guest list was super. I still prefer CHILLER however as the NY/NJ areas best horror con. Heres some pics:
Kane Hodder gned my son's hock and machete.....then strangled him lol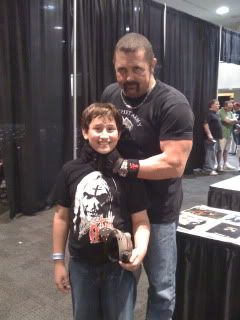 me and Tobe Hooper gning my vintage TCM2 poster
me and my boys with my buddy brian and his kid with THE father of GORE! Herschell G. Lewis!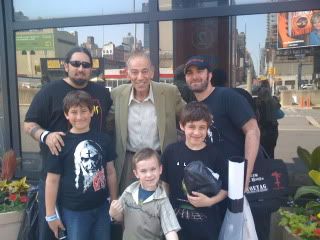 speechless......
the boys with GWAR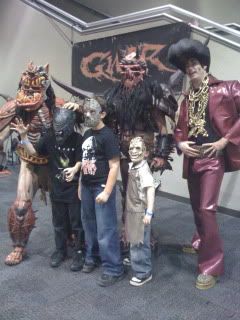 my boys (jason/alien and my bud's kid leatherface lol)