I thought I posted this here a couple days ago but must not have click the submit button ..
Well couple more things coming soon .. I have a friend sculpt a new jason for me and he decided to do old crazy Ralph while he was at it .. Just posting these pics to see what you guys think ..
Later
Lewis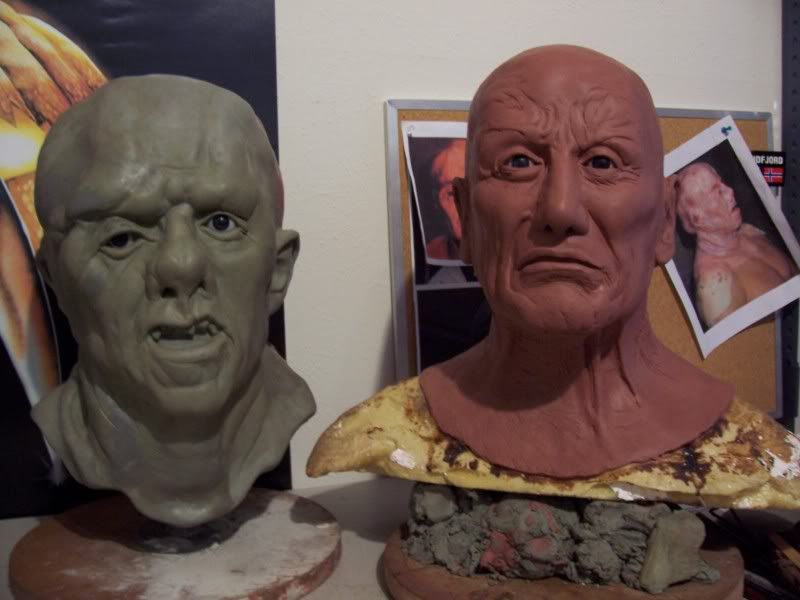 maskmaniac Tuesday 8/25/2009 at 12:34 AM | 53187
i love crazy ralph!!!!!!

thats got to be one of the most original things ive ever seen anyone dohttp://www.youtube.com/watch?v=TVvA50XPN5A
Johnny Bisco Tuesday 8/25/2009 at 12:39 AM | 53188
Dude, that rocks!

Very cool and unique item, the facial expreson is dead on!


DarkArtist81 Tuesday 8/25/2009 at 12:58 AM | 53190
I love em both but seeing a Crazy Ralph is just outstanding.
cropsy Tuesday 8/25/2009 at 01:10 AM | 53192
chubacabra Tuesday 8/25/2009 at 01:49 AM | 53196
pamelavoorheesRIP Tuesday 8/25/2009 at 02:15 AM | 53198
customcritters Tuesday 8/25/2009 at 03:46 AM | 53201
wowthey are both awesome! You have a lot of Friday the 13th part 3 on the market but most of the mask are not like Jason in Part 3. Your sculpt has the likeness of Jason!!! So you probably dont know for how much you will be selling them? Again great sculpt!
Klempo Tuesday 8/25/2009 at 09:15 AM | 53202
Oh god, now Ralph will be invading our collections!
DrenTheLiar Tuesday 8/25/2009 at 08:13 PM | 53229
But it about time Ralph did invade peoples collection.


cropsy Wednesday 8/26/2009 at 07:54 AM | 53269
These are both looking pretty darn nice.

Did Josh sculpt these?
Chainsaw Friday 8/28/2009 at 01:08 AM | 53346
Any updates on old Ralph, Lewis?

-Jared
SideshowFreak Monday 9/14/2009 at 10:48 PM | 54706
For the extreme F13 collector!!

That is looking great!
kaizu Tuesday 9/15/2009 at 03:38 PM | 54753
fallon6190 Saturday 10/31/2009 at 10:38 PM | 57336