Special thanks to Jim Kagel for sculpting the original in "83, as well as being kind enough to share his reference photos with me. Special thanks also goes to Ryan aka The Death Curse, for sharing his references, and providing great constructive criticism along the way.
Hydrocephalus Saturday 10/03/2009 at 03:38 PM | 55687
Hydrocephalus Saturday 10/03/2009 at 03:39 PM | 55688
I will have more photos up soon, comparing this sculpt to the original work. Thanks for looking!
Hydrocephalus Saturday 10/03/2009 at 03:40 PM | 55689
kaizu Saturday 10/03/2009 at 04:09 PM | 55690
I go with just what kaizu said.


cropsy Saturday 10/03/2009 at 04:26 PM | 55691
Please tell me there will be a hood veron.
DrenTheLiar Saturday 10/03/2009 at 05:34 PM | 55692
Pt4 has always been my favorite Jason and this is definitely the best sculpt I've ever seen of him!

Can't wait to see him finished.
chubacabra Saturday 10/03/2009 at 06:04 PM | 55694
will this be latex or ren?


customcritters Sunday 10/04/2009 at 12:06 AM | 55713
oldskool Sunday 10/04/2009 at 01:51 AM | 55721
What else can I say

what he said!Seriously can't wait to see this finished!
Horror Domain - Cursed Evil Overlord Sunday 10/04/2009 at 04:50 AM | 55728
Here are the final comparison images. The left half of the first image is of the original sculpt of Jason done by Jim Kagel, just before being used to cast the makeup for Ted White.
Thanks everybody! I plan on casting this in translucent ren, but if I am able to salvage the sculpt, I am not counting out the posbility of other mediums, and even producing a hood veron for that matter. And, I am taking every posble precaution to ensure the sculpt's survival. Within the next week or 2, I will have an update on the molding and casting status.
Hydrocephalus Monday 10/05/2009 at 01:10 AM | 55775
you had me sold on the first page. this may be the best final chapter sculpt ive ever seen.


pamelavoorheesRIP Monday 10/05/2009 at 01:21 AM | 55776
By far the best part 4 ive ever seen, those closeup shots and the level of detail and accuracy sell it for me, looking forward to seeing it done up, i know ide buy one.
liquid-venom Monday 10/05/2009 at 01:02 PM | 55791
Looks amazing man! Great Job!


HorrorFreak Tuesday 10/06/2009 at 09:25 AM | 55832
Wow! This is so amazing! I wish to be this good of sculptor some day. You did a really great job.


weaponx Wednesday 10/07/2009 at 10:33 PM | 55902
Hey everybody! Here are photos from my molding process: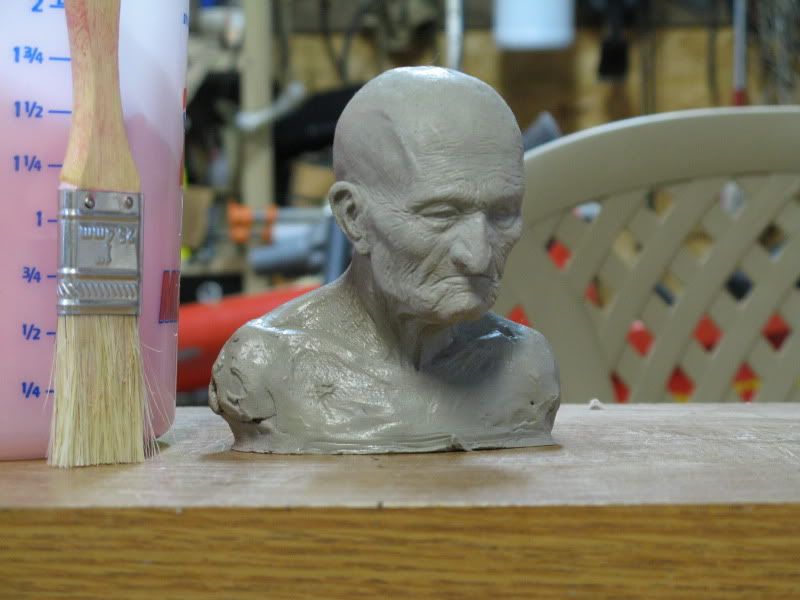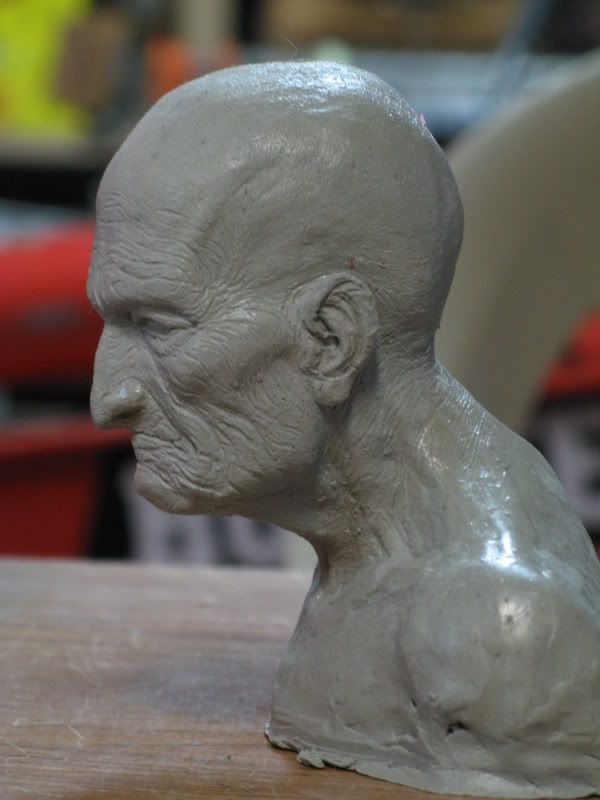 This is my rough little mock up for the casting process. The photos were taken after it was successfully demolded. There was very little damage, the most notable being the left ear.
The bust is fully sealed with acrylic spray, and mold release as I apply my print cote.
A nice detail shot of me ung an air hose to release any air bubbles, and force in detail.
completed print cote.
A couple of the following layers.
The completed licone mold. As you can see, I had some complications with my clay shim.
Hydrocephalus Thursday 11/12/2009 at 10:22 PM | 57933
Mother mold successfully removed.
Just before cutting the seam.
Needless to say, this was a very somber moment for me. I really hoped that the sculpt would have fared better.
After placing a few pieces back together.
Thankfully, all was not lost. The mold turned out beautifully! I am so relieved to finally be finished with stage of the process.
Now, I need to figure out how to safely clean my mold, as clay had very unexpectedly stuck rather tenaciously to the mold.
Hydrocephalus Thursday 11/12/2009 at 10:24 PM | 57934
This looks very good. I'm excited to see the next stage. What did you use for the hard outer shell?
weaponx Tuesday 11/17/2009 at 06:25 AM | 58102
Love this bust! Can't wait to see what happens next!
Hordak Wednesday 11/18/2009 at 05:17 PM | 58139
The sculpture looks fantastic.

Will you make ren busts or only latex masks?
freddydreams Thursday 11/19/2009 at 11:21 AM | 58163
Any updates on this bust ?
campfan Friday 2/12/2010 at 10:26 PM | 61665