By 1983, the slasher sub-genre (to most people) had jumped the shark. To the people that didn't particularly enjoy it, it was a lot like beating a dead horse in terms of the formula. However, to most slasher fans, they were still effective time-wasters and I would have loved to see more of them. However, they weren't pulling in the loads of moolah like studios wanted, so the number released per year began to dwindle until they were almost gone. While the film at hand was technically a success, it seems to have been forgotten over the years, but now, it's time to remember...
The House on Sorority Row 1983 Review
In 1969, Dorothy Slater is giving birth after taking an experimental sedative. Unfortunately, after she delivers the baby, her doctor arrives with rather unfortunate news about what has happened to her baby. Fourteen years later, Katey (Kate McNeil), Vicki (Eileen Davidson), Liz (Janis Ward), Jeanie (Robin Meloy), Diane (Harley Jane Kozak), Morgan (Jodi Draigie), and Stevie (Ellen Dorsher) are seven sorority sters who are preparing to throw a huge party at the sorority house when their housemother, Mrs. Slater (Lois Kelso Hunt) closes it down. Once Slater gets a whiff of what's going down, she orders a halt to it immediately, and then destroys Vicki's water bed while she was shagging her boyfriend on it. Vikci, being the vengeful bitch she is, plots a revenge scheme on Slater that involves all the sorority sters. Well, things don't go quite as planned when Mrs. Slater ends up getting shot. The girls, not wanting to muck up their future, toss her body into the house's disgusting swimming pool. They continue with their plans of the party, but someone doesn't want these girls to ever forget what they did to Mrs. Slater. Someone has taken her sharp cane is bumping each girl off one by one during the party. Did Mrs. Slater survive her plunge and is out for revenge? Or does one of the girls want to cleanse herself by killing everyone responble? And will anyone be able to stop this madman?
http://img135.imageshack.us/img135/9157/vlcsnap2011081004h14m19.
The kills featured in this movie are all rather bloody and quite nicely done. The director originally didn't have a few of the money shots, but thankfully, the producers did something right and had him insert some more gore. While in some scenes the kill is offscreen, but when we do get to see a sharp object penetrate someone's body, it looks pretty real, but never too real so it becomes unpleasant to watch.
This is a slight spoiler, but nce most of you already guessed it, Mrs. Slater is not the one killing. I won't give away who is, but they set it up that she's the killer beautifully, with all sorts of clues and indications that gnal that she is the one butchering everyone. The choice of weapon is also interesting, with a sharp cane being used for a majority of the kills. I won't knock it, because it's certainly unique and used to great effect. We don't ever see the face of the killer, but near the end, she/he dons a clown outfit that I think looks really creepy. My only problem is that it wasn't used for the entire runtime. http://i463.photobucket.com/albums/qq354/the-celluloid-tomb/sorority4.jpg" class="photoborder" /> As if all that good stuff wasn't enough, this movie has some moments that would make Alfred Hitchcock proud. The score is fantastic, with whimcal, happy numbers in the beginning, then switching over to more serious and frightening muc cues. There are also some great camera tricks that add to the Hitchcock vibe. And, of course, it wouldn't be total Hitchcock if it wasn't very suspenseful. There's some bona fide scares to be found amongst the carnage and bare skin, yet they never seem out of place with the fun (yet serious) nature of the rest of the movie. There's also a really weird (but visually fantastic) sequence where Katy is sedated and begins having a hallucination of Mrs. Slater and all her dead friends walking around with some crazy lighting. Even though there's some great slasher fun, the wonderful soundtrack, visual flair, and suspense are what really make the movie. There's also some comic sequences at the party that do feel a bit out of place, but I liked how they added to my enjoyment of the movie.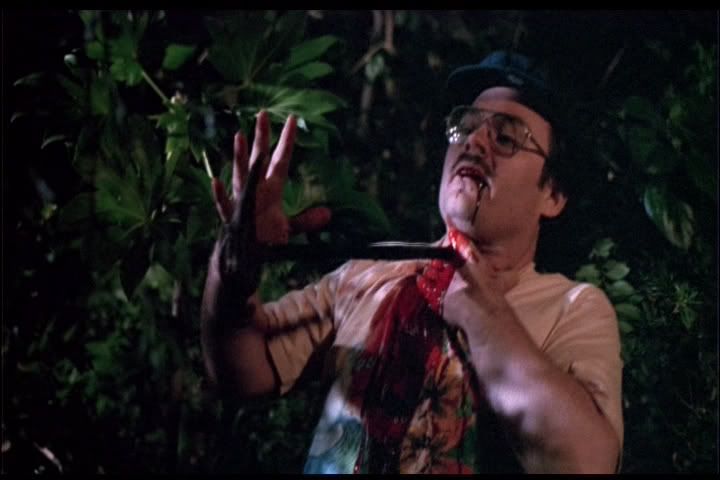 The House on Sorority Row has been released on DVD twice: once by Elite Entertainment back in the early 2000's, and again in a 25th Anniversary Edition by Liberation Entertainment in 2010. Both have gone OOP, but have no fear, because you soon won;t have to pay a ridiculous amount to get a good copy of the film. Scorpion Releang is putting it out on a two-disc edition in January as part of their Katarina's Nightmare Theater line of DVDs. The disc includes all the original features, as well as some new ones, so I would suggest you pick it up immediately. That ade, I feel this is a superb delicacy the slasher subgenre has to offer. It does everything a good horror flick should do by providing the audience with scares, gore, nudity, humor, and altogether, creates a fantastic movie. I have yet to see the remake (which I hear is awful, so I'll probably pass on that), but I'm sure it doesn't hold a candle to this feast of the magnificent. The heroine was likable, there's a fair amount of blood, a couple nude scenes, a cool killer, a unique weapon, the list goes on and on.
The Verdict: The House on Sorority Row is a mostly-forgotten popcorn gem that succeeds on all levels of a fun horror movie.
http://youtu.be/w5CPZG5I4NM Don't trust my judgment? Here's four other opinions:
Oh The Horror Brutal As Hell DVD Talk Inde Pulse