Hey guys, this is from 2009. A production company in Japan degned this figure and sold them, we got the prototype which is numbered. The box and everything is included but it has been opened to take the pictures below. This is top notch everything down to the real leather shoes that were manufactured for this figure and real shoestrings.
This was a degn of kind of a mixture of Myers ((H20 mask with
thron symbol on hand) and only 10 were ever produced. These were sold to high end collectors and went fast.
Horror Domain - Cursed Evil Overlord Friday 3/11/2011 at 04:46 AM | 73292
I know dis youtuber. This guy has some great stuff. Stopped making vids now.
Mr.Skemer Friday 3/11/2011 at 09:22 AM | 73299
Believe it or not, I actually own this. It was made by a group called Mack & Co. It was released on the web te, ArtofToys.com, and they was a limited run of 10 made for our very own horrorbid.com I have #10 of 10 which is kinda cool. The guy who did the youtube video has #6. There was also a run of 50 made which didn't include the pumpkin, or the COA. I still to this day haven't opened mine. I want to every day, but b/c it's so rare I just keep Michael locked away in his cardboard cell.
It would be cool if we could track down the other 8 owners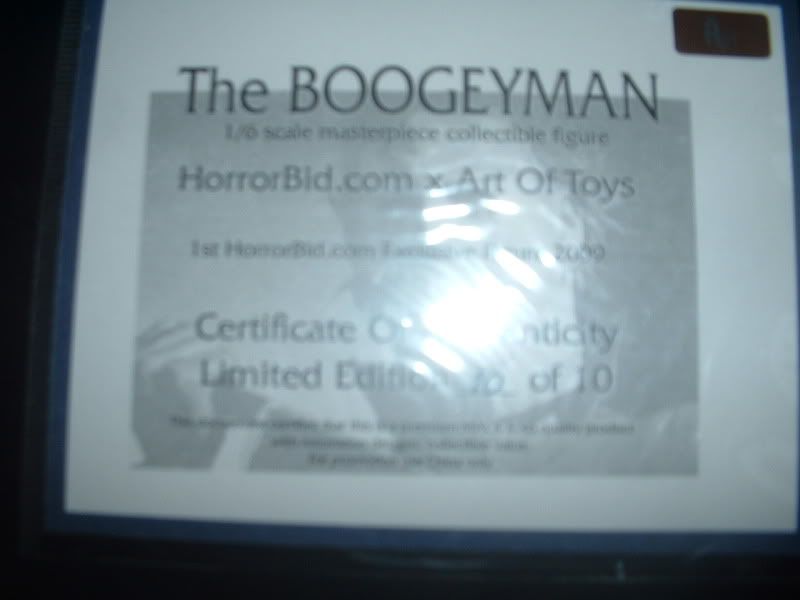 Anonymous Saturday 3/12/2011 at 12:53 AM | 73318
This makes me wanna get an H20 mask now!!...lol
awesomesuperdude Saturday 3/12/2011 at 01:12 AM | 73322
I remember seeing this a few years ago, and marveling at the great H20 sculpt. This is indeed a great looking figure, and if I had the cash, I would own one!!! Fantastic!!!


strangerathome Monday 3/21/2011 at 06:55 PM | 73679
I actually own the artist prototype that was sold through Horrorbid's Facebook.

Sadly, when I got it, the knife blades were broken off of the handles; must have happened in trant.

Anyone have any suggestions on what would work best to reattach the blades to the handles?
CZW_CJBecker Wednesday 10/19/2011 at 05:17 AM | 85435