Drafthouse Films, Timpson Films and Magnet Releang have come together to produce The ABCs of Death, an unrivaled 26 part anthology project that will boast work from some of the finest young directors in the buness today.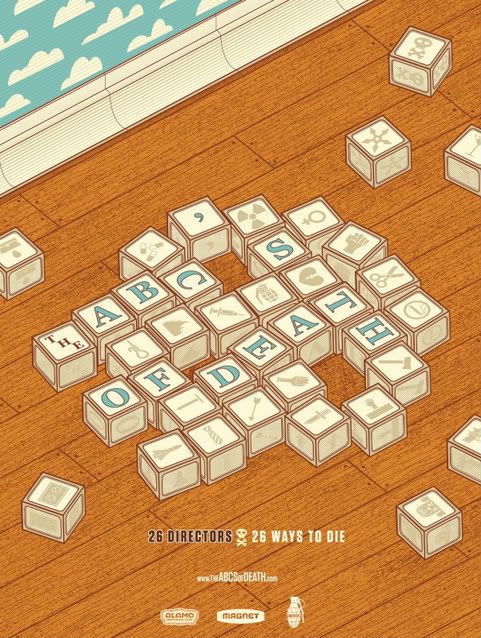 ABC's 25 filmmakers have now officially been named, while the 26th will be decided as a part of a worldwide competition degned to locate and showcase unheralded talent. The search for the final director ends October 1st, and you can check out the submison guidelines here.
Each of the following directors will tackle a letter from the alphabet that represents a word to act as a foundation for a condensed tale of terror. Take note, there are some terrific vionaries attached to this colossal project, including Ti West, Kaare Andrews, Jorge Michel Grau, Jason Eisener and many more!
Kaare Andrews
Angela Bettis
Ernesto Diaz Espinoza
Jason Eisener
Bruno Forzani & Héléne Cattet
Adrian Garcia Bogliano
Xavier Gens
Jorge Michel Grau
Noburo Iguchi,
Thomas Malling
Anders Morgenthaler
Yoshihrio Nishimura
Banjong Pisathanakun
mon Rumley Marcel Sarmiento
Jon Schnepp
Srdjan Spasojevic
Timo Tjahjanto
Andrew Traucki
Nacho Vigalondo
Jake West Ti West
Ben Wheatley Adam Wingard Yudai Yamaguchi