FEARnet's Twisted comedy block returns June 4, Debut of REAPER, SEASON 2 OF HOLLISTON!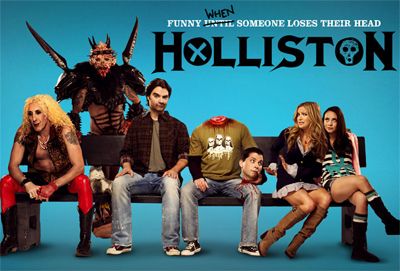 http://youtu.be/zAFifi4AVqc
FEARnet's TWISTED COMEDY BLOCK RETURNS ON TUESDAY, JUNE 4, WITH THE NETWORK DEBUT OF REAPER AND THE SEASON 2 PREMIERE OF HOLLISTON, ALONG WITH MANY OTHER FRIGHT-FILLED FILMS Also in June, FEARnet Premieres a Variety of Popular Genre Titles Such as '28 DAYS LATER', 'TUCKER & DALE VS EVIL', 'BRIDE OF RE-ANIMATOR', 'HATCHET II', and 'NEEDLE'
(SANTA MONICA, CA – MAY 28, 2013) – FEARnet is turning up the heat this summer, with a slew of stunts, marathons, and premieres, headlined by the network debut of the smash comedy REAPER, and the season two premiere of FEARnet's hit original series HOLLISTON, as part of the Network's Twisted Comedy Block, on Tuesday, June 4.
The Twisted Comedy begins at 2 p.m. ET/11 a.m. PT, with a complete HOLLISTON season one marathon, to whet fans' appetites and get them caught up for the season two premiere. Following the marathon, at 8:30 p.m. ET/5:30 p.m. PT, the Network will re-air the REAPER reunion special—a round-table discuson hosted by TV and web personality Angie Greenup, featuring REAPER stars Ray Wise, Bret Harrison, Tyler Labine, and more!
At 9 p.m. ET/6 p.m. PT, for the first time nce its run ended in 2009, REAPER's clasc first episode is back on televion. In this introduction that launched a cult phenomenon, college dropout Sam Oliver's life is changed forever when he learns, on his 21st birthday, that he must serve as a bounty hunter for the devil, wrangling rogue souls from Hell in this fan-favorite directed by Kevin Smith.
Then, at 10 p.m. ET/7 p.m. PT, HOLLISTON returns for a raucous second season full of even more irreverent humor, gory effects, and heartfelt storylines. When Corri discovers genre icon Kane Hodder recovering in her hospital after a failed suicide attempt, Adam and Joe hatch a plan to cast him in their short film, SHINPADS. Meanwhile, Lance Rockett informs the boys that the cable station could be shut down if they don't make some serious changes… like showing romantic comedies on "The Movie Crypt."
June Gloom got you down? Break through the haze with FEARnet's Cruel Summer Sweepstakes! Starting Saturday, June 1 at 9 a.m. PT and running until 5 p.m. PT on Friday, June 28, participants can enter FEARnet's Cruel Summer Sweepstakes at
http://fearnet.com/cruelsummersweeps
, for a chance to win a loaded prize pack featuring a 42" LED EX440 HDTV; a 16 GB Xperia Tablet S; WRONG TURN, THE X-FILES Complete First Season, and THE FUNHOUSE on DVD; FEARnet swag; excluve TALES FROM THE CRYPT merchandise; and much more.
Other June Highlights Include:
* 'NEEDLE' (World Televion Premiere) – Sunday, June 9 (8 p.m. ET/5 p.m. PT) Friends and loved ones meet brutal and bizarre ends when a college student inherits an ancient box, in this inspired thriller starring VIKINGS' Travis Fimmel.
* 'BRIDE OF RE-ANIMATOR' (Network Premiere) – Sunday, June 9 (10 p.m. ET/7 p.m. PT) Dr. Herbert West (Jeffrey Combs) is building the perfect woman… piece by bloody piece… in this sequel to Stuart Gordon's Lovecraftian opus.
* "J-Horror Marathon" – Thursday, June 13 (6 p.m. ET/3 p.m. PT) Gut-busting viruses, vengeful ghosts, nefarious newspapers and violent teens collide in this epic five-film frightfest. INFECTION spreads at 6 p.m. ET/3 p.m. PT, as a dilapidated hospital plays host to a deadly virus that liquefies the indes of its victims. At 8 p.m. ET/5 p.m. PT, a man is haunted by mysterious newspapers depicting future tragedies in PREMONITION. Then, two sters take part in their parents' morbid experiments in KYOFU, at 10 p.m. ET/7 p.m. PT. KAIDAN follows at 12 a.m. ET/9 p.m. PT, as scorned spirits haunt young lovers in Edo Era Japan. The acclaimed BATTLE ROYALE closes out the evening at 2 a.m. ET/11 p.m. PT, as the troubled class of 3-B is forced to fight to the death in a government-sanctioned tournament.
* '28 DAYS LATER' (Network Premiere) – Sunday, June 16 (8 p.m. ET/5 p.m. PT) Cillian Murphy awakens from a coma in a Britain ravaged by the effects of the rage virus, in Danny Boyle's celebrated genre masterpiece.
* "Z is for Zombies" Marathon – Thursday, June 20 (10:30 p.m. ET/7:30 p.m. PT) Learn the ABCs of the undead with FEARnet's "Z is for Zombies" Marathon. 28 DAYS LATER sets the night off at 8 p.m. ET/5 p.m. PT, as Cillian Murphy fights to survive in a Britain ravaged by the rage virus. Then, it's Tom Savini's retelling of NIGHT OF THE LIVING DEAD at 10 p.m. ET/7 p.m. PT, with Tony Todd defending a farmhouse from hordes of the walking dead. Next, Robert Englund and Jenna Jameson star in ZOMBIE STRIPPERS, at 12 a.m. ET/9 p.m. PT, as undead pole dancers infect a night club. ZOMBIES OF MASS DESTRUCTION wraps up the night at 2 a.m. ET/11 p.m. PT, with an act of bio-terrorism turning the citizens of Port Gamble into brain-craving zombies.
* 'HATCHET II' (Broadcast Premiere) – Sunday, June 23 (8 p.m. ET/5 p.m. PT) Marybeth (Danielle Harris) comes back for revenge after her family is slaughtered by Victor Crowley (Kane Hodder), in this second installment of Adam Green's hit slasher franchise.
* 'TUCKER & DALE VS. EVIL' (Broadcast Premiere) – Sunday, June 23 (10 p.m. ET/7 p.m. PT) Well-meaning rednecks (Tyler Labine and Alan Tudyk) are terrorized by clumsy coeds during a weekend getaway, in this clasc comedy that puts a fresh spin on familiar genre conventions. 30 ROCK's Katrina Bowden also stars.
About FEARnet FEARnet is a multi-platform programming service delivering original and acquired horror, thriller and suspense content as a cable TV movie network, a video-on-demand outlet and web portal.
FEARnet, a partnership among Sony Pictures Televion, Lionsgate Entertainment and Comcast Corporation, features a robust lineup of popular titles from major film studios and independents, encompasng 300 plus movie titles a year, including 14 world televion and 22 theatrical broadcast premieres. The Network is distributed to U.S. cable subscribers across the country on various systems and is often ranked as the number-one free HD VOD movie service available in more than 27 million homes. The webte, FEARnet.com, ranks as one of the most popular tes in the genre category among total uniques and duration per vit. Follow FEARnet on Facebook and Twitter (@FEARnet). For more information about the company, vit
http://www.FEARnet.com
. To access photos vit FEARnetPR on flickr.
Source:
http://www.horrorphilia.com/2013/05/28/ ... led-films/