The "Scream Queen" moniker rose to true prominence in the 1970's, and the term hasn't left the lips of horror fans nce. For some odd reason, genre fans are fascinated with the next powerful heroine, and we're always eager to brand the new female lead the "Next Great Scream Queen". The truth of the matter is, that's a title that should be reserved for very few in the buness.
I could ealy run through a list of 100 worthy women of the coveted title, but I'd need to dig deep into history's crates to do so. In order to save some time and downze the potential scope of this list, I'll be highlighting women who've made their mark in the last 20 years excluvely.
In other words, don't spiral into an uncontrollable rage when Jamie Lee Curtis doesn't top this particular list!
10. Danielle Panabaker: At 23 years old, Danielle is one of the youngest occupants of this list. Her experience is still fairly minimal, but she's a genre natural, and if there was any doubt about it after Mr. Brooks, she lenced the doubters with memorable performances in Friday the 13th and The Crazies. A featured role in John Carpenters long awaited directorial return, The Ward is sure to boost her growing clout; an appearance in the forthcoming Piranha 3DD could potentially do just the oppote.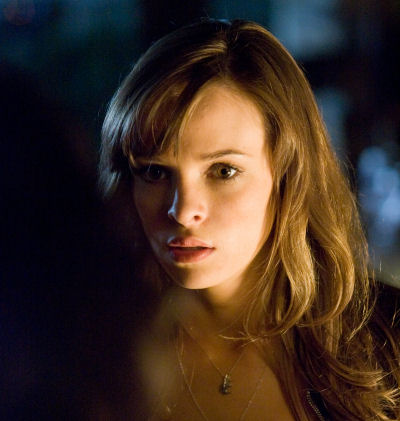 09. Rose McGowan: Despite landing some extremely kick ass roles in both Scream and Phantoms, not many condered Rose "Scream Queen" material. General perception shifted however when Robert Rodriguez and Quentin Tarantino cast her as one of the primary leads in both Grindhouse features, Planet Terror and Death Proof. After seeing Rose splatter zombie flesh with her modified amputated limb and bounce around the passenger section of a beautiful matte black 1971 Chevy Nova, I'm convinced! Keep an eye out for Victor Salva's upcoming tale of suburban terror, Rosewood Lane, as Rose will once again take center stage in what promises to be a quality feature.
08. Sheri Moon Zombie: Sheri's rightfully worked her way onto this list in an extremely unorthodox manner. She is, in all honesty, the anti-scream queen, as she's become better known for playing antagonists rather than the heroine, and she's anything but your ideal goodie-goodie, prep squad survivor. In fact, there's a strange white trash sexiness that Sheri projects, and it only further distances her from the casual crowd. For those who take to drooling over this rocker bad girl, your wait for Sheri's return to the big screen shouldn't be too lengthy, she's slated to appear in hubbie Rob Zombie's upcoming feature The Lords of Salem, which hits theaters next year.
07. Aa Argento: Much like Sheri Moon, Aa Argento lands a lot of gigs courtesy of close family ties; in Aa's case, famed father, and Giallo master, Dario Argento often books his gorgeous daughter for his gruesome features. It's a good thing too, without Daddy, Aa would have missed a few key genre features. Among the many films she's worked on with her father are the fan favorites Trauma and The Phantom of the Opera. Aa also surfaced in Mother of Tears as well as cult favorites The Church and Demons 2. For my money, I pick Land of the Dead as a personal favorite; this woman is abnormally sexy when asserting her dominance. Aa is currently back at work with her father, this time tackling a starring role in Dario's modern rendition of Dracula, appropriately titled Dracula 3D.
06. Ingrid Bolsø Berdal: When I mention the fact that Ingrid is ealy the least known woman on this list, it's no shocking revelation. However, if I tell you that both Cold Prey I and Cold Prey II are arguably the best two slashers to hit the market nce Scream, you may be a bit surprised. Just the same, this is the best new franchise to see conception in years, and Ingrid is absolutely stunning in a wonderfully natural manner. It's hard to watch Berdal work and not draw upon milarities between this Norwegian goddess and legendary genre heroine Jamie Lee Curtis.
Note: Ingrid is ealy my favorite leading lady to be featured in this piece, and if it were all about my personal opinion and nothing more, Ms. Berdal would move comfortably into the top potion. That said, I'll keep things a bit more "mainstream" and make sure this list appeals to the more casual fanbase!
05. Melissa George: Melissa isn't just an attractive woman with lips luscious enough to rival Angelina Jolie's, she's a believably competent lead that's traditionally pretty easy to pull for. There's a natural strength that Melissa relies on when shooting vulnerable scenes, and coupled with her chameleon-like adaptability, the two make for remarkably well-rounded performances. To get an excellent idea of the kind of range Melissa George boasts, check out Triangle, followed directly by 30 Days of Night; you're in for an examination of extreme diverty.
04. Amber Heard: Despite landing at number four on this list, Amber is perhaps at the front of the pack in terms of the most modern and relevant scream queens in the buness. Leading Carpenter's latest The Ward, combined with sound performances in The Stepfather remake, Drive Angry 3D and All the Boys Love Mandy Lane, Heard is the future of scream queens, mark my words.
03. Milla Jovovich: What I love about Milla, is the fact that she can kick the ass of every other woman on this list. If there's anyone fit to lead rebels into a relentless war with zombies, it's Milla Jovovich. Whether you love the films or loathe them, you can't deny the cultural relevancy of the Redent Evil franchise and the impact Milla has made through her performances as the uber-tough Alice. When you add the generally well-received The Fourth Kind and A Perfect Getaway, you're toting an insanely impresve genre influence. Now's a good time to point out the fact that the fifth installment of Redent Evil is expected next year.
02. Danielle Harris: There's a quality to Danielle Harris that I can't seem to accurately identify; this woman was seemingly born to front horror ensembles. She's perfectly rough around the edges, which makes for a slight stiffness in some of her performances, yet, there's always a detectable pason in her effort, and those are two traits that I think function synonymously with "Scream Queen". Did I mention she's insanely gorgeous?
For a few excellent Danielle Harris features, look into Halloween 4, Rob Zombie's first Halloween remake, Hatchet II and Stake Land.
01. Neve Campbell: Right now there are a lot of annoyed readers shaking their heads in disgust at my number one pick, but I stand behind this decion, firmly. Neve's work in the Scream franchise has managed to not only reignite interest in commercial horror, it saved a dying sub-genre that I for one cherish. dney Prescott is a character that will be remembered in 25 years; she's today's Laurie Strode, which is an amazing compliment. When you conder Neve's hand in what many conder the best witch themed film in decades, The Craft, Campbell is an obvious shoe-in for this top spot.