Writer/director Jon Knautz has returned to the genre after a three plus year absence. On deck for this talented filmmaker who first gained major notoriety with the sleeper indie gem, Jack Brooks: Monster Slayer, is a tale of ambitious journalists who find themselves tangled up with a human-sacrificing cult, branded The Shrine.
There is some noteworthy talent in front of the cameras, as Aaron Ashmore (The Skulls II, The Thaw), Ben Lewis (Stir of Echoes 2, Scott Pilgrim vs. the World) and Trevor Matthews (who portrayed the titular character in Jack Brooks: Monster Slayer) all take upper billing slots. While each of these young upstarts, have more than proven their worth, it's particularly exciting to see Knautz and Matthews once again reunited.
If a handful of the names and titles listed above seem foreign to you, that's understandable, as not a ngle one has built a staggering résumé or garnered a cult following. Having said such, believe me when I tell you, there is some serious skill at work here, and The Shrine stands to be one of the sleeper indie releases of the year.
I've been anticipating the film for months, and knowing that fans who missed the pictures festival run will finally get the chance to see the fruit of some determined filmmakers' labors come to (hopefully) terrifying life July 15th, when the film lands in homes via IFC Midnight, is really exciting news.
If you do indeed happen to be one of the poor souls in the dark who possess no reason to exhibit interest in this picture, I'm here to provide a little motivation.
5. Buzz, Buzz, Buzz: The Shrine has been featured in numerous festivals nce Knautz and crew wrapped. While that's not a rare feat, drawing the constently potive reviews from fans and critics alike, is definitely not the norm.
The film also earned awesome praise from some of the major players in the online horror market, including Bloody-Disgusting.com, who rated the feature 3.5/5 skulls, Mrmoviefiend.com, who rewarded a 4.5/5 rating and Chud.com who delivered a solid 7.3/10 score.
If you invest much in the opinions of critics, you're likely already curious.
4. Knautz, One to Watch: John Knautz is a young name on the rise. Having filmed a slew of shorts that have earned tremendous praise, this multifaceted vionary tackled his first official feature length film just a few years ago, the aforementioned comedic genre piece, Jack Brooks. The film immediately earned masve recognition, and has already been tabbed a "cult clasc".
The hype is justified mind you, as Jack Brooks is far more than a mple monster movie; it's a thickly layered romp packed with great action scenes, disgusting gore and enough laughs to turn the heads of the most ill-tempered imaginable. In short, it's damn near a masterpiece (especially if you're a fan of horror willing to take itself less than dead seriously), which is an incredible accomplishment for the green Knautz.
Speaking of Green, I actually find some milarities between Knautz and Hatchet creator Adam Green. Both men seem to really appreciate films of yesteryear, which leads to a lot of entertaining nods to grindhouse features of the 1970's and early 1980's. Both of these guys understand humor, and more importantly, how to turn a solid joke on paper into a laugh-out-loud scenario on screen. There are obvious differences in technical styles, but it's tough to refute the likenesses shared by these two future standouts.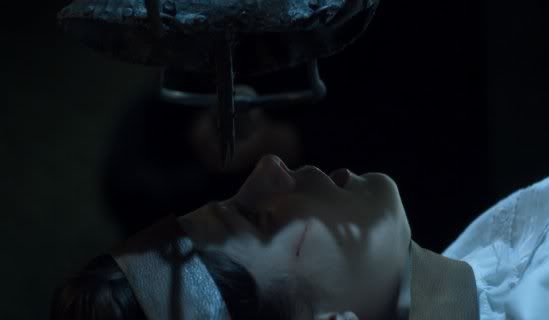 3. Ashmore, Carving A Path Through the Genre: Aaron's been doing fine for himself the last few years, but it seems he lives in the shadow of his twin brother, Shawn, who's nailed masve roles in the initial X-Men trilogy, and The Ruins. Aaron's career however looks to be finally taking off, and a lead role in this surprise-in-waiting will only propel the train faster.
Appearances in The Thaw, Fear Island and televions popular series, Fringe act as a great foundation, but The Shrine is likely to usher in a whole new following for Ashmore (assuming his performance meets or exceeds expectations, that is). Knautz himself has already earned a sound fan-base, and leading the prospects second feature is likely to pay major dividends for Aaron.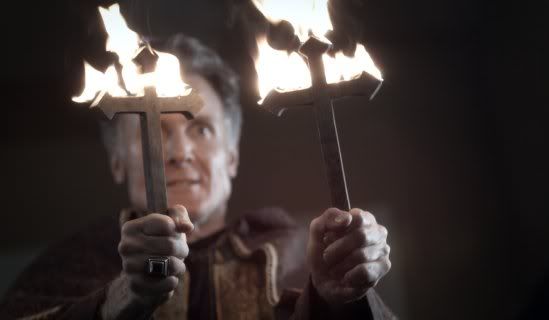 2. Trevor Matthews: This guy is a damn riot, plain and mple. There's a dry quality to Matthews' humor, and it's absolutely priceless. Whether punching potheads in the throat, or expresng his unfamiliarity with the Chinese language, the guy draws big laughs and delivers some prize lines.
Of course, chuckles alone don't necessarily separate you from the pack. You've got to be a diverse and capable lead, and that's where Trevor holds an edge over many of his young contemporaries. He's a believable hero. He's not Arnold Schwarzenegger ripped, or Jason Statham skilled, but he's rough around the edges, and he looks like the kind of guy who'd be quick to punch you in the face if you offended his girl at the local pub. Those ruthless capabilities are what make many lead protagonists (as well as antagonists) believable, and relatable; Trevor projects those capabilities.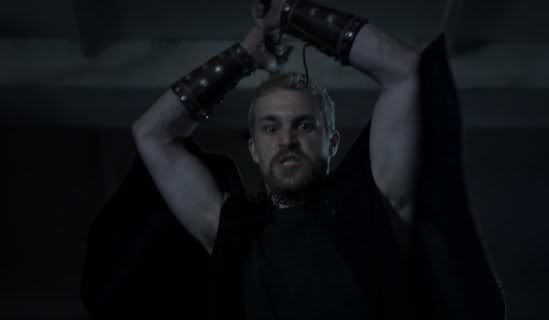 1. Something…Almost New: I'm not about to t here and tell you the idea of a crazy cult equipped with the inclination to sacrifice human beings is insanely original; it's not. However, Jon Knautz has a unique way of turning cliché into something more noteworthy.
Being an R-rated indie release, The Shrine is free to explore the extreme, as there's no major studio looming overhead, looking to lure the teenage crowd in with a pathetic, watered down PG-13 effort. Nope, that's not the case at all, and being relatively familiar with Knautz's work, I'm expecting him to seize, and shatter the mold.
Expect a grim feature, expect some graphic gore, and expect an unconventional twist on a familiar anecdote.