With the exception of Indious, the horror genre has seen nothing but embarrasng showings at the box office this year. From high-profile releases to obscure limited runs, horror has taken a nose dive with the casual fan in 2011, at least at the box office. While it's not a major shocker that the genre isn't drawing staggering box office ticket sales, it is a bit surpring that highly promoted features like Scream 4 and Season of the Witch disappointed in such dramatic fashion.
While we're just over the halfway point of the year there's still some hope for the genre. For now however, let's look at five of the biggest big screen disappointments of 2011.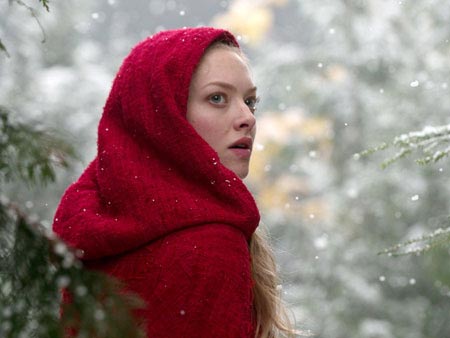 5. The Rite
Theatrical release: 2,985 theaters
Domestic earnings: $33 million
r Anthony Hopkins, a powerful trailer and a heap of promotional funds went into the advertisement of this film. Unfortunately for director Mikael Håfström (who I happen to be a fan of!), not many showed interest in yet another exorcism theme flick; rightfully so, this one didn't produce anything special to set it apart from its countless predecessors.
4. Red Riding Hood
Theatrical release: 3,030 theaters
Domestic earnings: $37 million
$37 million isn't a horrible showing. However, heavy hype and the red hot Amanda Seyfried had inders picking this stylish flick as a potential box office hit. Sadly, director Catherine Hardwicke invested just a bit too much style and too little substance. It may have worked for Twilight, but fans sought more than cheeseball romanticisms and Twilightesque structuring from this age old tale, which put the brakes on Red Riding Hood's potential success immediately.
3. Season of the Witch
Theatrical release: 2,816 theaters
Domestic earnings: $24 million
Not many held out hope for this Relativity release, and with good reason. A goofy script, terrible special FX and a subject matter that's grown relatively stale prevented this action/horror flick from ever leaving the ground. A tip to the guys at Relativity: Give the viewer's something they actually want to see, and keep Nicolas Cage far, far away from production.
2. Dylan Dog: Dead of Night
Theatrical release: 875 theaters
Domestic earnings: $1 million
First, it must be noted that this comic adaptation never had the proper promotional push. I'm not even certain many knew of the films source material; working that angle may have helped financially, at least a little. Though this flick hit less than 1,000 theaters, it was doomed to fail from the start. Power promotion is one thing this feature was definitely not treated to, and a feeble $1 million box office take only echoes that fact.
1. Scream 4
Theatrical release: 3,305 theaters
Domestic earnings: $38 million
$38 million dollars is nothing to scoff at. However, when your feature is expected to debut in the $50 million range, something is just not right. While die-hard franchise fans salivated over the prospect of a new Scream film, the rest of North America couldn't care less, apparently. When compared to the films three predecessors, Scream 4's financial take was absolutely embarrasng (even the horrific Scream 3 garnered $89 million at the box office), and likely brought an end to the long running series that helped reunite interest in the slasher sub-genre back in the mid 1990's.