The terms underrated, or Under-appreciated are a bit like the word "ironic"; everyone likes to toss the word about, but strangely enough, few seem to grasp the true meaning of it. Well, I'm here to point out a few underappreciated sequels, and let you know just why these sleepers don't nab the embrace they may well be due.
(And yes before you even think to mention it, we love discusng underrated horror here on Horrorbid!)
Jaws 2: The first initial Jaws sequel is unquestionably inferior to its predecessor. However it's also criminally underrated.
The idea of following the increangly paranoid chief Brody in his quest to save his endangered children (who are now conderably older than the youngsters showcased in the first feature) who've opted to defy their parents and hit the water despite warnings, is damn near genius, and probably the best posble concept imaginable for a film of this nature, save for planting us in the story of complete strangers, which in itself would prove detrimental to the continuity of the franchise.
Seeing Roy Scheider and Lorraine Gary reprise their roles as Mr. and Mrs. Brody is highly entertaining, and adds a strong allure to the picture. The remaining performances (keep an eye out for Keith Gordon, who portrayed the famous Arnie Cunningham in John Carpenter's Christine) are serviceable at worst, fine at best, and the shark effects are nearly on par with the original.
Jeepers Creepers 2: Imagine Jeepers Creepers 2 as a standalone feature; it's actually a fine film that holds some genuine replay value. Though panned by many critics, this is another enjoyable journey through a nightmarish rural America where the Creeper is on the prowl, in search of new body parts from a busload of boisterous high school kids.
Stylistically, this follow-up plays ultra-faithful to the first franchise film, and there are actually some really underrated performances on hand. Of major note as well, are some not-so-quiet, racially fueled scenes of tenon that manage to create memorable characters and (sadly) plauble feuds. The special effects are great, and the fact that writer/director Victor Salva openly scoffs at a few age-old cinematic clichés is a wonderful change of pace.
While Jeepers Creepers 2 may not be a masterpiece, it's a damn fun frightfest that pulled down heaps of hatred that's never been all too justified.
Jason X: Right now there are plenty of you scratching your heads at this selection; miserable performances, an insanely over-the-top story, questionable special effects… and Jason isn't even stalking the counselors at Camp Crystal Lake!
Well, that's all a part of the hidden beauty within Jason X.
The story is indeed insane, but it's wicked good fun, and for the first time (I'm pretty much blocking out the memory of "Jason Takes Manhattan", though there are a few insanely awesome scenes in the flick) really gives Mr. Voorhees the chance to explore different surroundings. A slick, contemporary reboot of the beast himself is hilarious and awesome at the same time; futuristic Jason looks damn bad ass!
There are so many flaws within this feature it's imposble to pass off the idea that it's a fantastic piece of work: it's clearly not. That said, it's the most enjoyable Friday the 13th flick to hit screens in too many years to count. Take your critic hat off and enjoy!
Ghostbusters 2:
You can tell me anything you want about this movie, and it won't sway my love for it in the slightest.
Venkman, Stantz, Spengler and Zeddemore all return to their ghost capturing ways, as they collide with Vigo the Carpathian, a centuries old tyrant whose soul is stuck within an unbelievably awesome painting. If you really want to pick this film apart, its largest weakness is the striking milarity it shares with the first film. It is, in fact, almost the same story, with different faces caught in familiar predicaments. Make no mistake however: the film is technically still quite impresve.
The extremely talented Ivan Reitman returned to helm this sequel, and his unique brand of filmmaking is unmistakable. Had the credits never rolled, you'd swear this was all just a long extenon of the first film, which in my book, is fantastic; I always fall back on that good old saying, "if it ain't broke, don't fix it!".
There was nothing broken about Ghostbusters, and thankfully, Ivan didn't make any major shifts for the second franchise film. Hell, we've even got Rick Moranis, Annie Potts and gourney Weaver repring their roles. How many franchise sequels can claim that virtually every ngle gnificant performer from their launch film has returned for the immediate follow-up? Not too many, which is sad, condering how incredibly coheve mple recasting can make a film.
Terminator Salvation: Someone break out the extinguisher; I'm going to be flamed beyond phycal recognition for this selection.
As casual fans will have you believe, this film is miserable on every imaginable level, and hands-down, Christian Bale's worst onscreen performance. I beg to differ.
I'll admit that Salvation's editing is extremely unremarkable, and, in a few sequences very unforgiving to the actors on hand. While an uneducated viewer may see a questionable acting performance, I see it for what it is: a long ordeal for a competent thespian. The fact of the matter is, Bale did a fine job, as did Sam Worthington, Bryce Dallas Howard (who is, admittedly underused), Anton Yelchin and even director, McG.
If you find it necessary to verbally crucify someone on the crew of Terminator Salvation, you might want to take a second look at Conrad Buff who for some odd reason (Buff is traditionally an exceptional editor I must say!) seemed to drop the ball in this rare instance.
Beyond technical issues, the biggest problem viewers have with this film is the broader scope through which the story is told. Fans have become accustomed to a more restrained narrative that follows one focal protagonist, and one focal antagonist: For Terminator, we sat and cheered for Kyle Reese, who collided with the near-unstoppable machine, portrayed by Arnold Schwarzenegger; In T2, we chomped at the bit as Schwarzenegger stepped in to play the heroic man of metal while Robert Patrick opposed him as the menacing T-1000; in T3, we once more ded with the lovable Austrian, who this time ran into the dreaded T-X, the franchise's first female villain.
Terminator Salvation strips the iconic identities away, and tells a reasonably (it does have a few holes) solid story, incorporating a large (and impresve) ensemble. From the jump, viewers no longer had two central faces to focus on, and the grander scale of the tale (in my opinion) threw viewers off. The great thing about Salvation though, is that it doesn't really need that limited focus, the story is opened wide, and there's so much kick ass action unraveling that we can (if we choose to) t back in and swallow some truly wild visuals.
For those who shower Bale with hatred, claiming he went "too edgy" and "not human enough" as the aged John Connor, conder the fact that the story is set years after the last time we saw Connor. Also conder the fact that in those years away from the screen, John's been watching humanity be obliterating while warring with man hunting machines. You too might be a little rough around the edges if you spent your prime years fighting cybernetic organisms while watching the world die.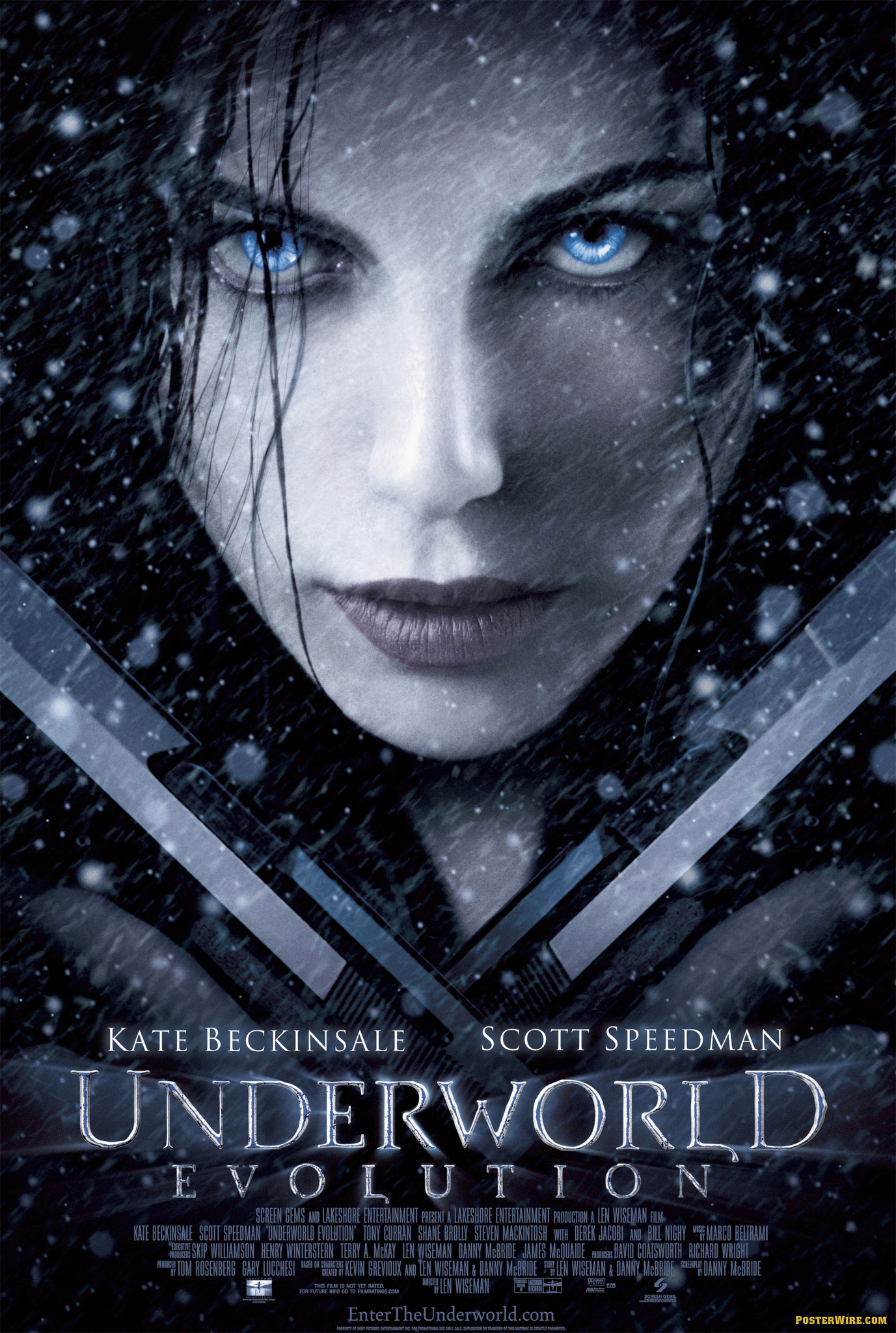 Underworld: Evolution: That's right. I'm going to list another highly debatable picture.
You can call this one trash, crap, heartless, soulless, hell you can even create some new rhetoric for all I care; if you enjoy horror movies, and you enjoy action movies, you should love the second Underworld feature.
We've got more spirited performances, underrated special effects and engaging cinematography at work here, as director Len Wiseman offers forth a thrilling action-shocker. The idea of a hybrid vampire/werewolf beast battling another strange, winged hybrid of sorts is a lot of fun. It's a perfect beer and pizza movie that fans shouldn't take too seriously. It's shot as a straight forward film, but I don't believe Wiseman ever intended to create a monumental drama piece; I think he intended to create a fun beer and pizza flick fit to fall back on in the case of poor televion programming. I think he did a fine job of it too!
Phantasm II: Good old Don Coscarelli… I swear to the higher powers, this man has the most abstract mind in the industry today! Don is in fact, probably the only man who can shoot a movie that incorporates the usage of about 15 completely different, wild, random ideas, and somehow makes it work!
In all honesty, the Phantasm franchise is so outlandish it should have been forgotten decades ago. But, the strange campy goodness Don captures on film prevented that from ever being a contemplatable option. A film about a tall dude, who squashes humans, turns them into mini ghouls who raid graves for other bodies to squash and ghoulify, while unleashing brain drilling metallic balls in his free time never should have worked; I'm damn glad it did though!The second film in the franchise is just as bizarre as its predecessor, but it's got a nice polished appearance that maintains a gritty grindhouse 35 mm print quality. The gore is fairly well executed, the always-awesome Reggie Bannister reprises his role… as… Reggie and Coscarelli's script balances drama, scares and laughs quite well.
Regarded by some die-hard fans as superior to the first Phantasm, the follow is definitely a lot of lly fun tucked away in just about an hour and forty minutes; if you've missed it, do yourself a favor and check it out ASAP!
The Rage: Carrie 2: I admit, this is more of a reboot than an official sequel. All the same, it's gnificantly better than the majority of critics would have you believe.
The story is virtually identical to the Brian De Palma helmed original, with the clasc finale swapped out in favor of a more contemporary climax. Oh yes, Carrie is now known as "Rachel". (I know, that's a tough one to swallow, especially condering the film's title.) Those differences ade, this one is all about a girl bullied to the point of fatal retaliation.
Emily Bergl does a fine job as the film's female lead, and the now-frequent horror contributor, Jason London is great as the tales lone decent male. The obnoxious protagonists are adequately abrave and quite easy to dislike, and the general pacing of the film is surpringly well-refined.
Like Jeepers Creepers 2, you're probably best served condering this one a standalone. Regardless of whether you recognize it as a bona fide sequel doesn't really matter though, in the end, this is a fairly fun film that captures the essence of 1990's pop culture quite well. Look into it with an open mind and no expectations, you might just find a long lost gem.
Lost Boys: The Thirst: There are some shoddy performances and fairly weak effects work on display in this specific instance, which I'd conder the technically weakest entrant on this list. But, the third flick in the growing Lost Boys franchise is actually quite enjoyable and extremely humorous (you've got to love that awkward grunt Edgar makes every time he's feeling displeased about something).
When you conder the train wreck that was Lost Boys: The Tribe, this film actually feels groundbreaking! The misery of the second franchise film fades fast as this goofy little installment unfolds at respectable speed.
The dialogue is abnormally corny, but filmmaker Dario Piana never really pretends to take the subject matter too seriously. In fact, the comedy is obviously intentional and lighthearted; Dario even goes so far as to take a… stab at the past Lost Boys feature, which makes for a welcome chuckle. Plenty of noteworthy references (take note of the comic book that Edgar Frog is unwilling to sell, for example), and some old clips from Joel Schumacher's first film are spliced into the feature, and combined with the full on return of Jamison Newlander as Alan Frog as well as a modern rendition of "Cry Little ster", these elements successfully create some strong nostalgia.
A sad, but fairly touching cemetery sequence acts as a tribute to the late Corey Haim, who passed (in untimely fashion might I remind you) prior to filming.
Halloween: The Curse of Michael Myers: I won't argue with anyone who reminds me that this is where the Halloween franchise made an official jumping of the shark. I will however, argue to hell and back that this flick is loads of fun!
Paul Rudd is on hand as the now grown Tommy Doyle, and he's damn fantastic as the quirky hero! Another noteworthy casting point goes to the expected incluon of Donald Pleasence, who once more reprises the role of Dr. Loomis; this casting tidbit is important because as most of you should know, it marked the final Halloween film to feature Pleasence, who passed shortly after shooting the picture.
As for the story itself, yes, it is criminally convoluted; If not for the onscreen appearance of Michael Myers, this flick wouldn't have much of an identity it's so left-field in its delivery. But honestly, you've got to ask yourself one thing: do I watch Halloween movies for the plot... or for the chaos brought forth by Michael Myers, and the few cool characters that find themselves configured into each film (save for Resurrection)? I know my answer to that question.