Few character actors stay as busy and constently vible as the great Ted Raimi. The man has surfaced in nearly 100 different entertainment mediums (including appearances in the Spiderman films, The Grudge, The Midnight Meat Train and many many more), and while he rarely takes on any gnificantly large roles, he's always memorable. As a personal fan of the man, the opportunity to chat about life and the biz with Ted was an open door, and the last thing on my mind was hetating at the threshold.
Check out Ted and I's one on one chat!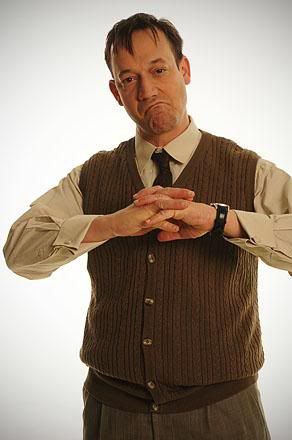 Matt Molgaard: A large portion of your resume consts of work in the horror genre. What is it that draws you into horror?
Ted Raimi: What draws me into horror is the thin veil between what we think is safe and what really is not safe. I'm not really interested in vampires or werewolves: that doesn't scare me. Those things never scared me. What does scare me is, for example: if you have to make a down payment on a house, and you're going to do it in cash, you get the cash out of the bank, you set the satchel of cash down in your office, and then you go to get the satchel a minute later - but it's gone. Everything you've ever worked for in your life is gone in that minute. That's (I think) true horror. I think that's what possesses my mind most of the day, are thoughts like that. And so, that's why I really tend to gravitate towards horror.
MM: You're kind of drawn to the realism aspect then?
TR: Yeah, I think so. And then, from there, it tends to take my mind into more of a phantasmagorical, fictional sense, where I try and come up with a story, or a concept that will match that idea I have.
MM: In addition to all the big screen time you've put in, you've also done quite a bit of televion work. Do you have a preference between the small and the big screen?
TR: Yes, the small screen. I'm actually generally more interested in televion as a long term gig, because I think it has more staying power than films do. I think people will watch things on the little screen (and by little I don't always mean T.V, I mean computer now of course), but...I think the small screen is more intriguing to me. Just because there are so many more people watching it.
MM: One specific moment in your career that really stands out to you?
TR: It was the third or fourth week after arriving in Los Angeles, I spoke with a casting director on the phone who was referred to me by a friend, and this casting director was casting a new Wes Craven picture. This was about 20 years ago. He said, 'I'm going to drive over to your house right now. I'll pick you up - I want you to read for me, and if i like you I'll take you over to see Wes Craven'. I didn't have a resume, I had nothing. And he comes and he picks me up, and I'll never forget it was in this really cool convertible. He hops out of the car says 'are you Ted?' I said 'yea'. He says 'read for me', so I did - and he went 'yeah, I think you'd be really good. Hop in my car'. I hopped in, we drove down to Santa Monica where Wes' studio was. I read for him, and he said 'yeah, you're really good. You're hired', it was as mple as that. It was an incredible experience because it taught me the importance of beginners 'luck', and what that means. Because there really is no such thing as beginners luck. There's really only not knowing you can't do something. You often do it, usually you do it.
I've sort of kept that lesson my whole life. Whenever I believed that anything wasn't posble, I always remember that very first three weeks I was here in Los Angeles when that incident happened to me. It was a really important lesson to learn.
The second most important thing I learned in my career was on (the movie SHOCKER). I was walking back to the trailers with Peter (Berg) one day, and I can't remember how we got on the subject, but it was about what I was going to do with a scene. We were just talking about it, and I was mentioning something that happened in the scene and I said 'well, this part isn't important, they're just going to be munchin' popcorn anyway - this is just a popcorn munchin' movie, I'm not gonna worry about it too much'. And Peter stopped and he looked at me and said (I'll never forget this) 'don't ever underestimate the audience, they're smarter than you think'. And that was really good advice, because he's right. I think you should never do that, you should always imagine they're at least as smart as you, if not smarter. I think a lot of horror filmmakers and sci-fi filmmakers really take a dump on audiences a lot of times, and highly underestimate them.
MM: Who has inspired you most throughout your career?
TR: You know, I'd have to say it changes every day, but I would say in the mucal field I'm really inspired by Marshall Crenshaw. That guy is just so prolific, I've never seen anyone write so many songs, and great songs - all of them great. Another guy I really like is Michael Nesmith formerly of the Monkees, who is really an interesting guy. Andrew Carnegie is another one, because he is the greatest rags to riches story in the world. The guy founded an empire and he started, really - with 10 bucks in his pocket, if that. Bringing it around to something more relevant... Rod Serling has been the most inspiring guy for me lately. As far as Hollywood is concerned, they really don't make em like this anymore.
MM: There's a subtle humor in a lot of your work that I personally find very funny. Is that a part of who you are off-screen as well?
TR: Yes, I think so. I have a hard time... it's like looking in the mirror and asking one's self if you think you act one way or another...I'm pretty sure your inner self is going to lie. You know, hear just what you want to hear. So I don't know, but nce you're asking, yes - I do think I'm like that. I try to enjoy myself as much as posble, but the demands of life are great on everybody, including myself. So, when I'm on set, all that stuff is behind me I can just have a good time, and I usually try to. That's why sometimes I'm more goofy than most.
MM: Ted, you seem like a genuinely nice guy, how much of your success do you attribute to your likeable personality?
TR: Very little. I think nice guys finish last in this town. I really do believe that, but I am who I am. I don't want to be anybody else. I'm saying that only half kiddingly, but it is a rough buness. It's not for the feint-of heart. I'll say that having a nice guy persona has really helped me land a lot of sort of 'nice guy' parts, and that's been a good thing. But I land (strangely enough) an equal number of 'crazy people' parts, you know? I don't know why, but I do...I think it's my face. Because I'm a nice guy, but I don't have your typical buddy sort of face that they need for those kind of parts, so I generally fit then into the third category of crazy people and weirdo's and stuff like that. It's great for me, because it's a hell of a lot more fun to play on those parts. And you're generally working a lot faster and you generally work less days than the guys do who have to be on set all the time. I come in, I shoot my stuff and then I go home.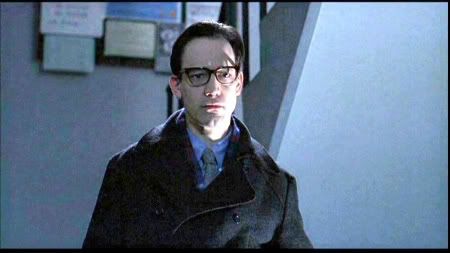 MM: So when you need a sociopath, give Ted Raimi a call?
TR: That's right, 1-800-NUTJOB.
MM: What do you say to all the fans out there who've supported you throughout your career?
TR: Thank you first of all for supporting me. Number two, thank you for supporting me through all the crappy, lousy movies I've done. Thirdly I'd say thanks for sticking around for so long.
Keep an eye on the small screen, as Ted will be appearing in the upcoming series Morbid Minutes, while he'll return to the big screen in next years High Midnight, which is currently in production.