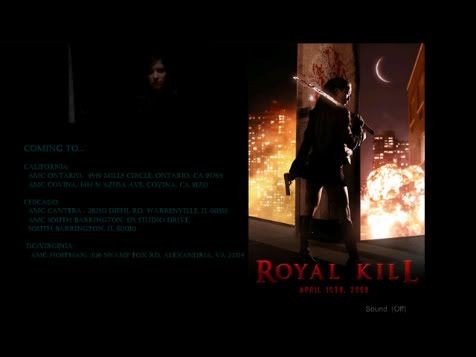 Hoping to follow in the success of his first serious journey into the cinematic field, writer/director Babar Ahmed (who won multiple awards on the festival circuit in 2003 for his debut feature GENIUS) turns his attention from the Romantic Drama department to the Action/Thriller/Chiller genre(s) with his latest effort, the martial arts-driven ROYAL KILL. The feature, compiled on a shoestring budget boasts an impresve cast, some great aerial camera shots, fluid action scenes and a few interesting script surprises. Having commanded an extended theatrical run due to its surpring embrace, ROYAL KILL is a marked improvement and drastic career boost for the daring Babar Ahmed.
In honor of the Kings seventh child, seven questions with Babar Ahmed:
Matt Molgaard: Tell me the schedule in which ROYAL KILL was filmed on.
Babar Ahmed: We finished our filming in 2007. We had however, filmed Pat Morita's scenes much earlier and took those scenes to several investors who put the budget in place. Post production and transferring from film and back to film-negative took us to 2008. For a theatrical release when a movie is complete it does not immediately get released - it has to be placed in a cue and released when there is availability at the theaters. AMC multiplexes released the movie in early 2009.
MM: This was Pat Morita's final picture. Tell me what it was like working with Pat. What did he teach you, and how did it effect you when you learned of his pasng?
BA: Pat Morita was one of the first Academy Award nominated actors I had the privilege of directing. He created a unique and impactful character in the movie, the likes of which in my opinion has never been seen before. On set, during all the commotion of lights and grip and dozens of crew members Pat taught me that the focus needed to be solely on the actor. The actor was what brought the character and story to life.
When I heard the news of Pat's pasng away I felt the loss of a decent and genuine human being. I also felt an immense loss to the entire entertainment industry. Pat was the first Aan American to be nominated for an acting Oscar. As a child doctors told him he would never walk due to spinal tuberculos, as a young boy he was sent to an internment camp in Arizona during World War 2. He overcame many obstacles in life to become an American icon and an inspirational figure in the industry.
There are three deleted scenes from the movie excluvely with Pat Morita and also several behind the scenes footage with Pat which show his comedic, exuberant and inimitable personality which will all be on the DVD.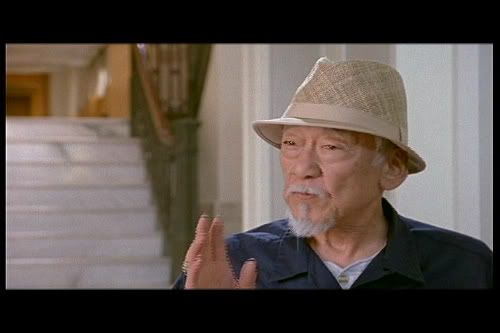 MM: After viewing ROYAL KILL I ordered a copy of GENIUS, your first picture - I haven't received the film yet, but I've been able to track down some clips of the picture online and I must say that ROYAL KILL seems gnificantly refined in comparison to what I've been able to catch thus far. How do you feel you've grown nce shooting GENIUS?
BA: "Genius" won several awards and received nationwide video distribution. And yes, I learned aspects of the process to be able to make a bigger movie. But I feel I learned gnificantly more from "Royal Kill" because it was released in mainstream theaters playing alongde $100m studio movies. At film school you study all the techniques to write a good script. But nothing can prepare you for what actually happens on the ground. You need to experience this first hand. I feel the studios have by-and-large perfected the craft of making movies for mainstream audiences.
As an independent filmmaker you want to do something different, something unique. And your only concern is the story. And this works well for film festivals where the average attendee is most likely a filmmaker or someone who is there to support filmmakers. But for movies playing in theaters you have a group of teens coming from high school who want immediate gratification and they have a choice of seeing "Fast and The Furious" or your movie. And the question is 'why should they spend money to see your movie rather than a $100m studio franchise?'. At some point you're going to need an answer to that question.
MM: Any new projects on deck for the near future?
BA: Yes, a couple are brewing.
MM: It's obvious that you put in quite a bit of footwork in promoting this picture. Tell me what it was like pushing the release so hard and just how much time went into spreading the word about ROYAL KILL.
BA: Opening in three major markets in multiple theaters multaneously was not an easy task. At a film festival there is one showing and then you go home. For a theatrical release each theater is playing the movie 6 times a day, 7 days a week. And this is happening in several different cities at the same time. I made sure to get a good poster. That was a major help. We had posters up in subways and on buses. We also had a very strong trailer. We had spots running on TV in between Access Hollywood and Jay Leno. I stood outde the theaters along with other team members handing out flyers. And we pitched it as a unique thriller - with a unique ending which you would not see in a typical studio movie. In some theaters we constently had more people in our showings than "Hannah Montana" or "Fast and Furious". AMC had to extend our run from 7 days to 21 days.
MM: What was the budget for ROYAL KILL?
BA: Under half a million, and that includes our entire production budget, marketing budget, and converting from film to HD and then transferring back to 35mm film negative, and making all our film prints, placing ads on TV, posters in subways and on buses.
MM: What words of advice would you share with aspiring filmmakers?
BA: Think: 'This is the budget I have. I know it's ridiculously low but I'm going to make my movie for this amount'. Even at major Hollywood companies movies rarely get made. They are constantly 'in development' or 'talking to someone big' or just buying and selling scripts mply because they are hoping that they will get their $50m budgets to make a movie - which never end up coming.
Take "Royal Kill" as an example. If we had a $50m or $20m or even $2m budget would the movie have been stronger in some regards? Absolutely. But if I had tried to raise one of those budgets there is no doubt that today we would still be in 'development'.
And now a deeper look at ROYAL KILL...
http://youtu.be/EguVGi-9nhs
THE SYNOPS: Amongst a war with the Skanji Empire in the Himalayas, the King of Samarza dies in the arms of a young soldier. He appoints one last task before pasng: travel to America, find the kings seventh child, (and last living heir) and protect her from the Skanji Empire's vile assasn Nadia, who has been dispatched statede to end the King's bloodline. Back in America, the teenage Jan has no idea that Doug isn't her biological father, or that she is in fact the princess of a dieing kingdom, engaged in a brutal war. Determined to succeed in his asgnment, Adam Arthavan arrives in America with little time to spare. Jan's home is invaded, and her world is turned upde down as Nadia embarks on her mison to kill Jan, while Adam fights desperately to save her.
NOTES/PRAISE: First, ROYAL KILL marks the final film in the illustrious career of Pat Morita (who is best known as Mr. Miyagi from the extremely popular KARATE KID franchise, and a lengthy stint on the long running televion show HAPPY DAYS). Second, the film also features the work of the prolific and versatile Eric Roberts (THE DARK KNIGHT), ring NICKELODEON star Lalaine, and WWE powerhouse Gail Kim - for a film with an extremely limited budget, that's a great ensemble. Third, J.D. Beales did a fine job editing this one, bringing the visual loose ends of a busy script together to form a well-controlled, healthily paced story that's both easy to follow, and intriguing enough to want to follow. Fourth, Chad kora and Yohance Brown deserve a great deal of acknowledgement for executing some extremely cool visual effects. And fifth, and most important - the extenon of huge respect to Babar Ahmed, a gutsy director who put together a creative story, an inspiring cast, and eventually an overall sound picture on an openly confined budget.
THE VERDICT: A true hybrid of a film, ROYAL KILL utilizes a unique combination of the Action, Martial Arts, Thriller, Fantasy and Horror genres. Somehow director Babar Ahmed sews the seams well, as in all honesty; this film should not work. It does though, and a well plotted script with an array of twists and turns help make it posble. It's great to see a pasonate crew put forth 110% effort in creating and promoting the picture, and it's even more moving to see Pat Morita at work on his final project. Above and beyond all, kudos for conjuring the courage to toss some creativity into the mix, it's long overdue.