We here at HorrorBid will be recommending one specific treasure for everyday of the month. The ultimate goal is mple; encourage the masses to seek out stellar films that fit the seasonal mold. While I'm certain plenty of our faithful readers will find some of these films predictable, or at the least familiar, we still feel as though a friendly reminder can go a long way towards renewed enjoyment.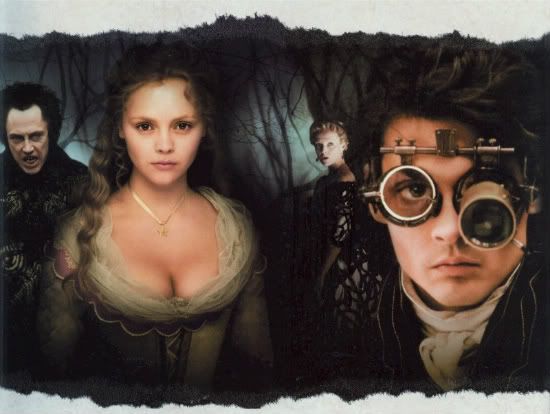 On deck for October 9th, is a picture that truly presents the power of amazing atmosphere, Tim Burton's brilliant take on the tale of Ichabod Crane and the headless horseman, Sleepy Hollow. This film has a little bit of everything, be it violence, blood splatter, suspense, severed heads or pure terror; it's all here for Halloween fans to feast upon.
The gist of the film is ancient news at this point, as the film follows Washington Irving's source material fairly faithfully; Constable Crane is dispatched to Sleepy Hollow to investigate a series of brutal murders. Bodies are emerging sans cranium, and a mythical character is believed to be behind the madness. Upon his arrival, Crane not only falls in love with the innocent yet sensual, Katrina van Tassel, he discovers the truth behind the legend of the headless horseman.
Of all the films to be featured this month, this picture in particular may fit the Halloween theme snuggest. It's so moody and true to the 31st of October, viewers may as well squeeze into a jack-o-lantern and peer at peculiarly clad children in search of stranger's candy. Everything about the film echoes the darkness of the season, from the haunting surroundings, gorgeous set pieces; eerie score and of course, the malevolently carved pumpkins, this particular film was destined for greatness and extended longevity. To add to the magic of the film, there isn't a ngle performer who misses a beat. Johnny Depp nails Crane to narrow 'T', Christina Ricci is extremely charming as Katrina, Miranda Richardson is chilling as the wicked step-mother, and Christopher Walken is absolutely petrifying as the haunted Hesan. All in all, 40 years from now, this may be recognized as Tim Burton's finest masterpiece, and it may well be condered the finest Halloween picture ever produced.http://youtu.be/R6O4Himch7g