It's no secret that the horror genre isn't exactly igniting the big screen lately. We've seen countless offerings collide with the box office, only to bounce back in violent recoil; ignored or bashed by commercial audiences. What is interesting however, is the fact that the genre is not only alive on the small screen, it's thriving like never before.
There was a time when fear freaks counted days until the next major feature landed in theaters, but those days seem to be fading, replaced by the knowledge that cable televion is becoming the go-to outlet for quality scares.
Numerous big budget and highly touted films have barged into cinemas lately, only to slink out the emergency exit, tail tucked. Season of the Witch debuted in January, only to pull down a meager $24 million domestically; Red State opened limited, but still barely toppled the $1 million mark; Scream 4, one of the most anticipated efforts of the year failed to break $39 million; Final Destination 5 drew fair domestic numbers, earning $42 million; the Fright Night reboot took in less than $19 million domestically; Don't Be Afraid of the Dark earned an unimpresve $23 million domestically, and most recently, The Thing opened to a dismal $8.5 million take. Hell, one could argue the only genuine genre effort to make waves this year was Indious.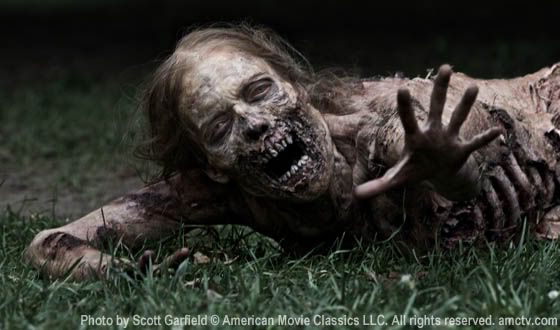 And while horror battles to survive the trip to theaters, the genre flourishes on televion, of all places (I guess we can completely rule out the whole "PG-13 horror sucks" idea). MTV's comedy/horror hybrid Death Valley is gaining quite the following, thanks to some witty scribes and solid onscreen performers. Dexter continues to draw new viewers and high numbers for Showtime. AMC's The Walking Dead is stronger than ever, setting viewer records and luring new fans regularly. The CW's Supernatural continues to thrill viewers. FX's American Horror Story is being welcomed with warm reviews and a solid viewership. Even those who love to romanticize the genre have food to feast upon in the form of True Blood, The Vampire Diaries and Teen Wolf, to name a few.
And honestly, I'm still just scratching the surface. Even networks aimed at children have jumped aboard the horror bandwagon with series' like, The Hub's, The Haunting Hour and the Disney Channel's, My Babytter's A Vampire. The list really does go on and on, and it forces serious contemplation as a fan of the genre: why is horror thriving on the small screen, and battling for survival at the box office?
So, I propose a few questions to my fellow Bidite's: Why is horror succeeding on the small screen, and more importantly, why the difficulties in drawing cinematic crowds? Surely the entire burden cannot be hoisted on the shoulders of the dreaded remakes, or unoriginal concepts, as there isn't much fresh material hitting the small screen anyway...right?