We here at HorrorBid will be recommending one specific treasure for everyday of the month. The ultimate goal is mple; encourage the masses to seek out stellar films that fit the seasonal mold. While I'm certain plenty of our faithful readers will find some of these films predictable, or at the least familiar, we still feel as though a friendly reminder can go a long way towards renewed enjoyment.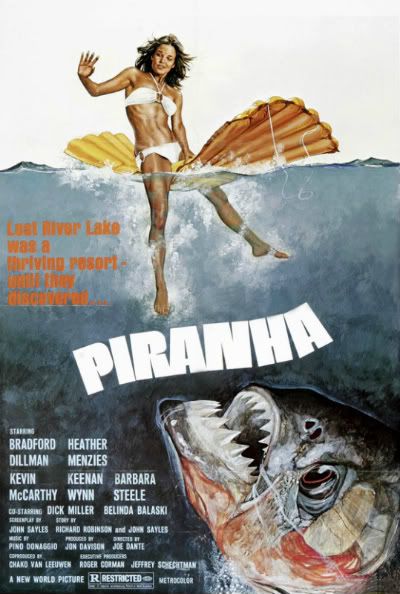 On deck for October 17th, is Joe Dante's kick ass 1978 feature, Piranha. If you love creature features, this one is certainly for you, as these flesh eating water dwellers are gruesome to the core and the story itself is pretty damn well crafted, despite some initial critical panning. While this one is no display of technical mastery, its boatloads (you see what I did there!) of fun.
The gist of the story is mple: A school of flesh eating piranhas are accidentally released into the waters of a comfortable summer resort. Needless to say, anyone looking for some nice rest and relaxation get more than they bargained for; forget about that planned BBQ, man is the meal now!
John Sayles does a wonderful job of crafting an entertaining script, and the legendary Joe Dante takes sound material and transforms it into a harrowing visual experience. There's plenty of 70's cheese to be feasted upon, but there are also some very revolting sequences to mull over. The violence by today's standards is admittedly tame, but that doesn't steal away the shock stocked in this clasc. The fact that, while extremely unlikely, there's a potential realism (I watch River Monster's dammnit!) to this scenario only adds to the unnerving nature of the picture.
Though Jaws may have set the standard for horror beneath the water's surface, Piranha certainly holds respectable potion amongst the most terrifying water themed genre efforts to be shot. That says a lot condering the lly undertones of the film, which should, in all actuality dull the fear conjured by this cult clasc.http://youtu.be/k9rLKMjbJGU