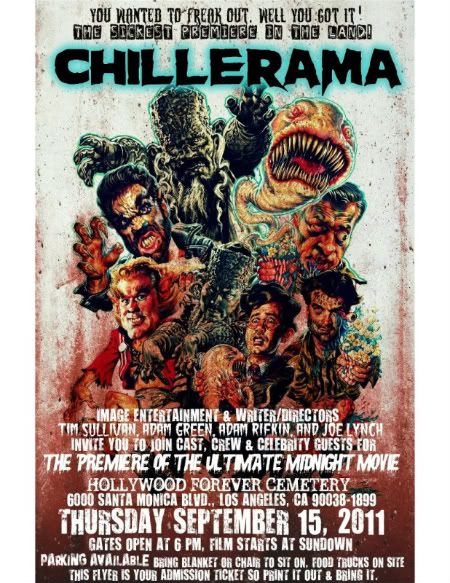 While it doesn't look as though Chillerama will win this year's Bidite Choice Award for best horror film (at least not by the looks of the votes cast thus far), that doesn't alter the facts. This is one disgusting anthology that's managed to earn a treasured place in my heart. The film is fun, funny, grotesque and as outlandish as they come.
From Adam Rifkin's insanely risque but absolutely enjoyable throwback piece, "Wadzilla" to Tim Sullivan's homoerotic Greaseesque shocking mucal segment, "I Was a Teenage Werebear", to Adam Green's hilarious, "The Diary of Anne Frankenstein", the anthology is a riot. If you enjoy gore, perveron, comedy and well thought out satire, this one is a homerun. Scratch that, Joe Lynch's wraparound segment "ZomB Movie" is balls to the wall goodness, and upgrades this one from a homerun to a grand slam.
All that said, this is the movie biz, and there are always weaknesses to be spotted. So, I figured, why not point out the pros and cons?
http://youtu.be/pGUCX53u90I
Pros: The nostalgia here is wonderful. Each segment is well acted, and there really isn't a weak short in the bunch. We're also treated to a handful of fun cameos and refined performances. But best of all? This flick was made to be viewed while consuming some cold ones, and believe it or now, there's real replay value here,Cons: I don't really have too much to criticize here. If there was one thing I could change about the film, I'd rearrange the order in which the stories unfold. "Wadzilla" clearly should have capped off this genius work, while "I Was a Teenage Werebear" would have served as the better opener. I'm a sucker for an anthology that really builds and gains momentum, and the continuity of Chillerama as it stands, is a little sketchy.
Concluon: If you're fan of old 40's, 50's, 60's and 70's B-movies, than this flick was tailor made for you. You'll laugh, you'll cry, you'll proclaim it better than Cats; you can bet on it.