There's something delicious about seeing the good girls go bad. Artist Jeffrey Thomas has a wicked gallery featuring several Disney babes as "dark" Princesses. Nothing like adding a little splash of horror to something sweet and innocent eh? Maybe this is a little unintentional foreshadowing of the Disney buyout of Marvel? Giving our fairy tale princesses a little horror twist! If you thought Princess Jasmin was hot before? LOL!
Shakelford, J. Rusty Friday 3/09/2012 at 01:32 AM | 91228
any one of these would be a badass tattoo
stephens540 Friday 3/09/2012 at 01:46 AM | 91230
I planned on doing costumes for a couple of these. They are amazing pieces of art.
Kiki_Freddy's_girl Friday 3/09/2012 at 01:57 AM | 91233
I love these..Especially the one of Esmeralda..Is there one of Belle?
Moon Friday 3/09/2012 at 04:26 AM | 91251
Yes. Here it is:
And Tinker Bell: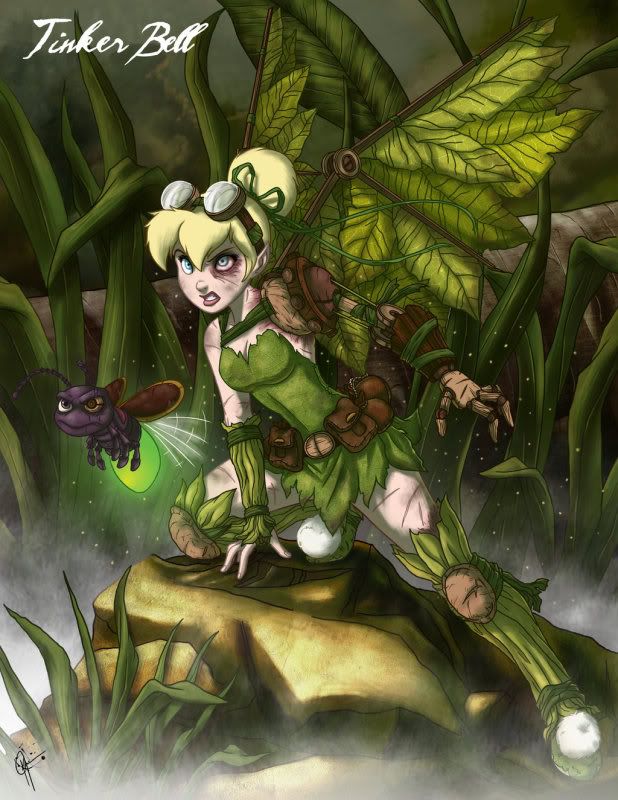 Kiki_Freddy's_girl Sunday 3/11/2012 at 01:59 AM | 91333
I particularly enjoy Ariel's fork-arm.
dew Tuesday 3/13/2012 at 12:18 AM | 91375